You may not have heard of Shopkick yet, but it's one of the best examples of the dramatic changes facing retailers now. An application that runs on iPhones, Shopkick pays consumers "kickbucks" — reward coupons — just for checking in when they enter Best Buy, American Eagle, Macy's, or other participating retailers. Additional kickbucks are available for performing particular actions — for example, scanning a poster on a store's dressing room wall into the iPhone camera. The kickbucks can be redeemed for gift cards and donations to charitable causes. Moreover, when shoppers at Best Buy show their iPhones running Shopkick to the cashier, they receive instant discounts.
Combining the location-finding power of the global positioning system (GPS), the ubiquity of the cell phone, and the creativity of online marketing, Shopkick and many similar applications are altering the consumer landscape. At a time when retailers are struggling to reach customers, who have become more and more hesitant to spend in a soft economic environment, this new use of technology will divide retailers further. The early adopters of mobile commerce (or m-commerce, as this use of technology is called) will have greater opportunities to influence shoppers in real time as they build "in the moment" customer analytics capabilities. Lagging merchants will increasingly see customers browsing their aisles while tuning in to their smartphones to check reviews, compare prices, and make deals with competitors on the spot. In short, m-commerce blurs the distinction between websites and bricks-and-mortar outlets, linking disparate operations and making the Internet a pivotal sales engine for the first time for many retailers — and highly dangerous for others.
A Rapidly Expanding Market
Although a relatively new phenomenon, m-commerce is already beginning to make its mark. A recent Booz & Company survey of U.S. consumer usage and attitudes toward mobile commerce found that between 15 and 20 percent of consumers currently use their cell phones and personal digital assistants for price discovery and product comparison, and 25 percent expect to do so in the future. Ten to 15 percent of the revenues from retail are expected to be influenced by mobile applications this year, or as much as US$340 billion in total retail sales across the U.S. and the "E.U. 3" (France, Germany, and the U.K.), as the exhibit below shows.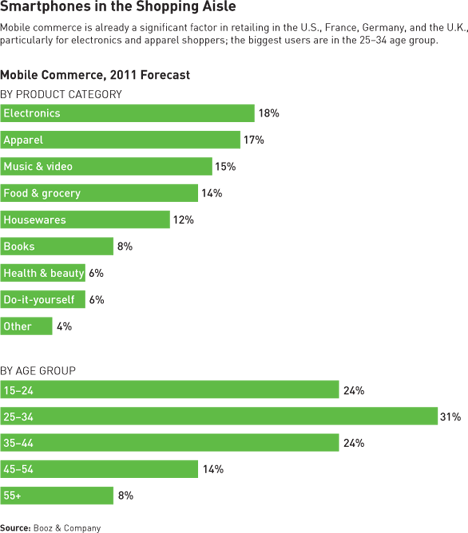 These numbers will surely grow rapidly, if only because the penetration of smartphones (a category that includes the iPhone, Android, BlackBerry, and others) is expected to increase from 17 percent in the U.S. and 15 percent in the E.U. today to 74 percent and 43 percent, respectively, by 2014. By 2013, as many as half the consumers in a typical retail store will use their smartphones for shopping.
Some retailers are already racking up impressive sales from m-commerce. In July 2010, Amazon reported that annual global revenues from mobile devices, including its Kindle reader, had reached $1 billion. Likewise, eBay expects its 2010 mobile commerce revenue to be between $1.5 and $2 billion; one item is sold via eBay Mobile every two seconds. The incentives for fence-sitting retailers to join this movement are high, because m-commerce builds loyalty, and returning m-commerce customers purchase items three to four times as often as their e-commerce counterparts.
Meanwhile, new players such as the enormously popular Facebook are entering the field. In August 2010, Facebook launched its "Places" service, which allows the site's 500 million users to disclose their current location on their home page. Retailers can tap into this feature to offer products, sales, and buying ideas. Consumers can vet pending purchases with their online network of friends, compare Web-based reviews and ratings, and see prices from a competing store down the street. American Apparel, Best Buy, Dell, Macy's, Sears, and Walmart use Facebook in this way now. In the Booz & Company survey, upward of 85 percent of customers said that retailers should do more to integrate social networking into their m-commerce offerings.