To many people, the U.S. auto industry appears to be on the mend. Indeed, many analysts foresee a rapid and, by some measures, dramatic rebound in auto sales in the next few years. But auto executives themselves, even when their own businesses are doing well, aren't yet ready to break out the champagne. That sentiment is one of the intriguing results of a new Booz & Company survey of more than 200 executives from major automobile companies (original equipment manufacturers, or OEMs) and the auto suppliers that make components for them. Although leading auto industry forecasters have predicted that light vehicle sales will rise to more than 16 million in 2015, up from 11.6 million in 2010, survey respondents expect a much more modest uptick — to only 13.5 million in 2013 and 14.5 million in 2015.
This caution stems, in large part, from uncertainty about the economy, credit availability, and overall demand. But there is another major reason: By the executives' own reckoning, most automobile companies have not fully gotten their managerial houses in order. Almost half of the survey respondents said that the recent auto industry restructuring in the U.S. did not go far enough. Two-thirds of them said that as a group, automakers and auto suppliers were not yet on the path to achieving sustained full return on invested capital. (See Exhibit 1.) Although there has been significant improvement in both product strategy and operations, respondents see a great deal of work still to do — and a worrisome possibility that the industry could slide back into its old ways. In fact, the auto executives view the overall outlook for their industry as so potentially tenuous that almost 30 percent said they expect a major automobile company to fail in the next two years.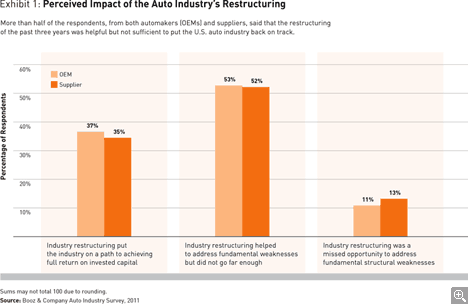 Yet despite their concerns about auto industry prospects and short-term growth, respondents were remarkably upbeat about the possibilities for their own business: More than 80 percent said that they expect their company to increase market share in the next 36 months. Moreover, some 30 percent of supplier respondents and 25 percent of OEM respondents expect their companies' revenue growth to exceed 15 percent this year. (See Exhibit 2.) And 60 percent of auto suppliers said they are actively pursuing acquisitions.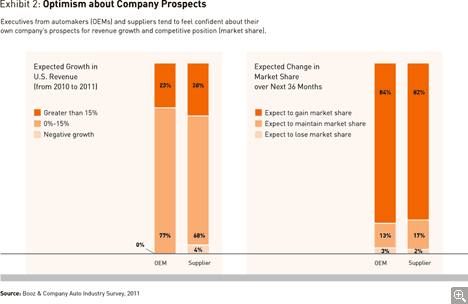 This disconnect between the perceived state of the auto industry and the prospects for individual companies can be traced in part to the fact that domestic automakers and auto suppliers are generating some of the best financial returns in many years. Since the global recession began, bankruptcies and substantial restructurings in the auto industry, as well as a stronger focus on lean factories and new union agreements, have had an effect. They have significantly reduced operational costs, sanitized balance sheets, and eliminated health and pension legacy expenses, or at least helped to make them more manageable. However, to translate these gains into ongoing improvements and more sustainable profitability, auto companies must address fundamental structural weaknesses. In a relatively saturated customer marketplace, automobile executives are understandably reluctant to count solely on consumer confidence and access to credit to drive near-term sales. But can they transform their companies by developing appealing vehicles with competitive economics, by increasing exports and further penetrating global markets, by introducing breakthrough technologies, and by finding other ways to thrive in an industry that will be increasingly in flux and more demanding than ever before? The survey responses suggest that the answer is not yet certain.
"If you look at the industry before the sales downturn, it was hyper-inflated," says Ernest Bastien, vice president of retail market development at Toyota USA. "People were using their home equity and easy-to-get loans to take advantage of extraordinary incentives that were being offered. In fact, the industry was not as robust as it looked. Going forward, automakers are going to have to rely on a more fundamental but complex equation for growth: making the right number of high-quality cars and proving to consumers that their brand is the best in terms of total cost of ownership, drivability, and reliability."