When you look at strategy as a frame of mind to be cultivated, rather than as a plan to be executed, you are far more likely to succeed over the long run. That is the core premise put forth by Cynthia Montgomery, the Timken Professor of Business Administration and former chair of the strategy unit at Harvard Business School, in her book The Strategist: Be the Leader Your Business Needs (HarperBusiness, 2012). The book is based in part on her work over the past five years teaching executive education programs at Harvard for leaders of owner-managed companies. It is also grounded in her work with large diversified companies. For example, she has served on the boards of Newell Rubbermaid, UnumProvident, and several mutual funds, as well as on the board of McLean Hospital, a not-for-profit organization based near Boston.
Rebranding Strategy: Why Traditional Strategy Planning
Needs a Makeover
Cynthia Montgomery speaks with Booz & Company partner Ken Favaro about why strategy needs to be reimagined, and how a leader can help define what a business is and why it matters.
Throughout her career, Montgomery, who has also taught business strategy at Northwestern University's Kellogg School and the University of Michigan, has found herself in the middle of a little-known but strongly felt debate that has gone on since the early 1980s in executive education and similar milieus. On one side is the "positioning school" of business strategy: Success depends on analyzing industry dynamics and competitive advantage, and staking out a position that is most resistant to competition on the basis of industry forces. Montgomery's credentials on this side include numerous articles in leading economics and management journals, and co-editorship with Michael Porter of the influential anthology Strategy: Seeking and Securing Competitive Advantage (Harvard Business School Press, 1991). On the other side is a perspective known in academia as the "resource-based view of the firm": Success depends on cultivating the capabilities and assets that no one else can match. One of the leading developers of this field is Montgomery's husband, MIT Sloan School professor Birger Wernerfelt. Montgomery and David Collis built on the resource school's insights in "Competing on Resources: Strategy in the 1990s" (Harvard Business Review, July–August 1995), one of the most reprinted articles in the history of HBR.
THE STRATEGY+BUSINESS COLLECTION: THE EXECUTIVE GUIDE TO STRATEGY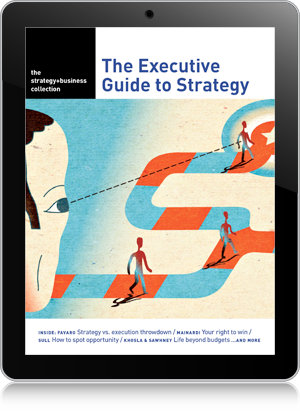 This article is featured in the strategy+business compendium "The Executive Guide to Strategy," designed exclusively for smartphones and tablets. The collection features our best thinking on creating and implementing the right strategy for your organization—with insights from top leaders including Capable Strategist author Ken Favaro, HBS Professor Cynthia Montgomery, strategy expert Ram Charan, and Kellogg School's Mohanbir Sawhney.
To download, select your device:
Montgomery's new book and her ongoing research into strategists' attitudes and actions represent an effort to move past the dichotomy, and to focus on what it means for a leader to be a strategist. To Montgomery, a business strategist is not primarily an analyst of position, or of resources; nor is the strategist purely adaptive, responding reactively to the vagaries of fate. He or she is someone who engages in a conversation about the purpose of a company. The company rises or falls on the quality of that conversation and the way it is used to make decisions about the ongoing work of the enterprise.
To get a clearer view of that approach, and what it might mean for senior executives, we sat down with Cynthia Montgomery in her office at Harvard Business School in November 2012. (She subsequently obtained permission to publish the anecdotes in which students are named.) This interview provides a glimpse of the direction that we think many business schools will take in the years ahead: combining the positioning and resource views, the entrepreneurship and management roles, and the strategy and execution imperatives into a single discipline that could be described as "identifying and realizing the purpose of your organization."