At Catalent, a U.S.-based producer of pharmaceutical products and provider of advanced drug delivery technologies and services, digital tools often support the practices of the company's 18 research and development sites around the world. Data pours in from R&D, sales and marketing, operations, quality assurance, and regulatory affairs, as well as customers. Evjatar Cohen, vice president for global innovation and portfolio management, and his team make sense of it all with a slate of new market and customer insight enablers. "Collecting the data is just part of what we do," he says. "It's really about using that input to come up with market uptake estimates for each potential product and an understanding of its business value. That aids us greatly in deciding where to focus our day-to-day activities as well as planning our long-term strategy."
The 2013 Global Innovation 1000: Navigating the Digital Future:
Learn More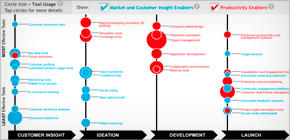 More insights from the 2013 study are available on strategy-business.com and strategyand.pwc.com, including:
You can also find Booz & Company's past studies here.
Catalent's story is similar to that of other leading companies around the world. To enhance the front end of their innovation process, more and more R&D teams are using new tools such as software programs that mine and analyze "big data" and customer immersion labs that use digital reality to simulate experiences. "The earlier in the process you are," says Cohen, "the more uncertainties and hurdles there are to manage"—and the new digital tools are ideal for confronting uncertainty and surmounting hurdles. Although they have not yet been widely adopted or tested, these tools are already enabling some companies to first gather a better and deeper understanding of customers' needs and engage them in the design process, and then monitor their products' use after launch to capture data that can be fed back into the innovation process.
These new digital tools are fostering change, but not in isolation; they are joining another group that has been around for years and is already well established at most companies. Productivity enablers such as computer-aided design (CAD) software used in the design and tooling stages of product development and project management tools that help track time lines, workflows, milestones, and spending have a long track record of helping companies boost the efficiency of their innovation processes—particularly at the back end when they are developing products.
The result? Digital tools are influencing every stage of the innovation life cycle: from collecting and analyzing customer insights, to generating and vetting ideas, to designing and manufacturing new products, and, finally, to tracking products' success once launched (see Exhibit 1). As part of this year's Global Innovation 1000 study, our ninth annual analysis of R&D spending, we took a closer look at these digital tools, both old and new, to determine what's being used most widely and what's working most effectively (they aren't always one and the same). We found that companies have a real opportunity—perhaps even an imperative—to rethink their digital tool kit. Indeed, we are seeing the first signs of a digital revolution that will transform how innovation is done. As with all revolutions, both breakthroughs and dead ends will make an appearance along the way. And there can be a tendency to get caught up in the hype. But make no mistake—digitization will change innovation, and companies should act now to avoid being left behind.