A land of political and economic extremes, Latin America has long been among the world's most challenging regions in which to do business. But corporations, some headquartered within the region and some outside it, have been undeterred, with many both fostering and profiting from Latin America's vast market potential. Although a resurgence of disorder in such major markets as Argentina, Brazil, and Venezuela has recently dampened some companies' regional ambitions, Latin America's multinational moment remains ripe. Firms will only succeed, however, if they adjust their objectives to the territory's real opportunities.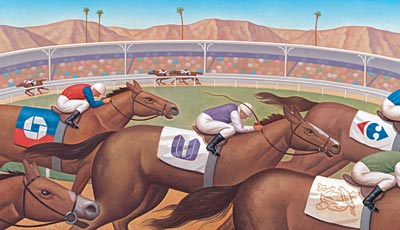 Through the 1990s, foreign multinational corporations (MNCs) seemed unrelenting in their quest to invest in and conquer this culturally rich land of more than 500 million people, upwardly mobile consumers, and promising industrial markets. Between 1991 and 2001, the ownership of the 500 largest companies in Latin America changed dramatically, with non-Latin multinational ownership growing to 39 percent from 27 percent. (See Exhibit 1.) The rising foreign competition pressured local Latin companies, which historically served only their home-country markets, to consolidate and expand into other Latin American countries, transforming themselves into "multilatinas."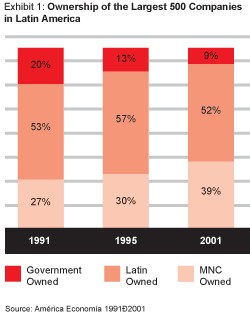 Some multilatinas are expanding within subregion free-trade areas, as defined by the Mercosur Pact (Brazil, Argentina, Uruguay, and Paraguay) or Andean Pact (Colombia, Venezuela, Ecuador, Peru, and Bolivia); others are growing panregionally — throughout Latin America. The most ambitious are aiming to compete with the world's largest companies beyond Latin America. Brazilian multilatinas Gerdau, a steel conglomerate, and Embraer, a maker of small passenger jets, to take two examples, have acquired or built manufacturing assets in the United States, Europe, and Asia. However, to date few local Latin firms have taken on the world or tried to create large multilatinas. In fact, very few Latin American companies earn more than 50 percent of their revenue outside their domestic market.
The post-2000 stock market collapse, currency devaluations, mounting political disorder, and the prospect of defaults on debt obligations have considerably reduced both the rate and the value of foreign investment in Latin America. In 2000, there were 166 merger and acquisition (M&A) deals initiated by MNCs, for a total value of $102.6 billion, according to Thomson Financial. In 2002, the total value of M&A activity by non-Latin companies was only $38.9 billion. Moreover, prompted by poor financial performance, some MNCs have been scaling back their Latin operations. In January, for example, the Bank of America Corporation disclosed plans to cut its 200-person Brazilian business by 75 percent, as part of a global reduction in its exposure to emerging markets.
Even though there are likely to be more rough times ahead, the long-term opportunities for business in Latin America are too great for corporations to ignore. The World Bank is forecasting improvement in the regional economy, with GDP for all of Latin America (including the Caribbean) projected to grow 2 percent in 2003 and 3.5 percent in 2004. And the "multinationalization" of businesses in Latin America is opening up new avenues for growth for all types of companies, although the needs and strategies of the MNCs and the multilatinas will, of necessity, differ.
We expect foreign MNCs to continue to gain overall share in Latin American markets in major consumer and industrial sectors, albeit at a slower pace than during the past two decades. To succeed, however, they will need to temper their purchasing of Latin American companies and create sustainable value from what they already own before making additional acquisitions.
Although slower foreign M&A activity will make it easier for the largest Latin American players to defend their turf, locals that choose to remain independent need to expand internationally, at a minimum across Latin America or in a subregion, to compete effectively against global MNCs, which have the size, growth, geographic breadth, and resilience to mitigate individual country risks.