Were it not for its universal recognition, the word
telephone
would have to be retired. These days a consumer can do a lot more with a telephone than just make a call. Take a snapshot or send one to a friend, play a game, listen to music, check e-mail, watch television — one can perform all these tasks, and more, with a pocket-size mobile telephone.
Through third-generation (3G) high-speed networks, and even narrower-band networks, portable multifunction phones will soon reach data transmission power similar to that of personal computers. With wireless technology advancing and average consumers becoming more adventurous, mobile telecom carriers and makers of handheld phones are poised to take the great leap beyond the voice market "invented" by Alexander Graham Bell in 1876, and fully develop the market in mobile data communication.
Certainly, all signs indicate that mobile data — the sounds, pictures, video, and text transmitted through wireless networks — constitutes the biggest new business opportunity for the wireless telecom industry since its inception. When NTT DoCoMo introduced i-mode, the world's first multimedia mobile data service, three years ago in Japan, it caught on quickly with teens, who were captivated by playing games, e-mailing text messages, and downloading ring tones from the Internet. Today, a burgeoning population of consumers of all ages around the world fancies possessing a single mobile device for communication, organization, and entertainment.
For many wireless telecom operators worldwide, mobile data service isn't just a new market opportunity, it's a survival kit. Operators are in a difficult spot: The network connection they control is rapidly becoming a commodity, and revenue growth from traditional voice and text services is slowing; compound annual growth in spending on voice services from 2002 to 2007 will be just 4 percent. (See Exhibit 1.) Thus, the mobile operators that spent billions of dollars to build 3G networks are under great pressure to introduce multimedia data services to generate revenues fast, so they can pay off and capitalize on their broadband investments.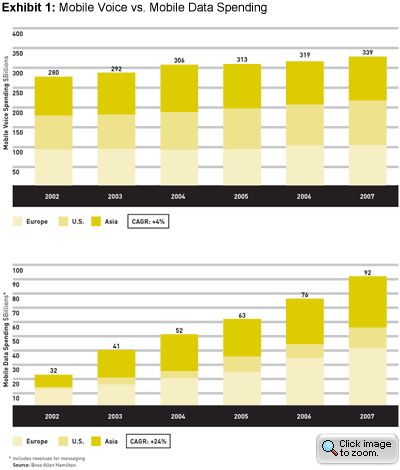 But the shift from voice to data services won't be an easy one. Indeed, mobile operators won't succeed without making substantial changes to their business models. Currently, their revenues come mostly from time- and volume-based fees charged to customers for connecting to their networks. This connectivity strategem is not well suited to the world of data services, in which the network is a less valuable asset than the content that is transmitted through it. The focus on connectivity also has isolated mobile operators within the wireless value chain. Because they were able to grow and profit in the past simply by owning the network, mobile operators had little reason to seek value from other sources.
We believe a new "integrated services" business model — one that encourages productive partnering and more varied approaches to value creation — is the most promising option for the wireless industry. Operators won't simply provide a connection to the network; rather, they will position themselves to directly influence and profit from every aspect of the wireless experience: reliable connections, clear reception, attractive and easy-to-use phones, useful and fun applications, good customer service, and more. As The Register, a U.K.-based Web publication for the wireless industry, put it, carriers that "cash in through integration" can create value from their networks, the handset, and content.
To do this effectively, mobile operators will need to interact more closely with handset manufacturers, content owners, software vendors, and application developers. They will also face aggressive new competitors among these companies and others in the digital value chain that are intent on getting their piece of the wireless action.