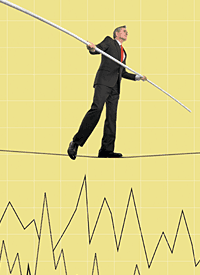 The global economy finally emerged last year from the financial storms of 2000–2002, as stock prices rose, corporate profits expanded, and business investment resumed in most industrialized economies. At first glance, it seems the chief executive officers of the world's flagship firms have shaken off the traumas and scandals of the past several years and reasserted confident leadership. Despite several media-drenched, scandal-shadowed, shareholder-pressured departures — including those of Royal Ahold Chief Executive Cees van der Hoeven in the Netherlands and Boeing Chairman and Chief Executive Philip Condit — Booz Allen Hamilton's annual study of CEO succession suggests that the hunting season for chief executives is winding down. In 2003, only 9.5 percent of the world's 2,500 largest public companies changed chief executives, the first time since 1998 that CEO turnover was under 10 percent. The primary reason for the decrease was a striking decline in the number of CEOs who were fired because of poor performance.
But the sun is not yet shining on executive suites and boardrooms. For the first time in our research — the most comprehensive ongoing survey of the demographics and performance characteristics underlying chief executive succession worldwide — we are seeing evidence that the contemporary governance movement is presenting CEOs and boards with a leadership dilemma of "lady-or-the-tiger" dimensions. Despite the one-year respite, companies remain focused on firing overcompensated, underperforming chiefs — the rate of CEO dismissals increased by 170 percent from 1995 to 2003. Yet that singular obsession appears to be contributing to lower average shareholder returns.
Why? Among other reasons, companies are dumping CEOs faster than they can replace them with qualified internal candidates, and thus are turning increasingly to outsiders. But our data shows that outsiders deliver significantly lower shareholder returns than insiders do over the course of their tenure.
Our findings indicate an evolving management picture shot through with such paradoxes. For example, boards, regulators, and shareholder activists are increasingly agitating for the separation of the roles of CEO and chairman. Yet in reviewing the career performance of all the CEOs who left office in the years we have studied, we find this division of responsibility also results in lower returns for shareholders. Company leaders, directors, and shareholders, we believe, would do well to reexamine today's "good governance" campaign in light of our research.
Among our specific findings:
In North America, the heat on CEOs has been reduced from boil to simmer. In the U.S. and Canada, involuntary successions accounted for 31 percent of all turnovers in 2003, down from 2002's peak of 39 percent, although higher than in any other year studied.

Europe has become the pacesetter in forcing out underperforming chief executives. Top European companies experienced the highest-ever rate of forced succession events: Nearly half of all CEO turnovers in Europe in 2003 were performance related. Forced turnover of CEOs of Germany's largest companies reached an extraordinary 8.1 percent in 2003, more than double the global average and the highest level in any region in any year we've studied.

Globally, the "imperial CEO" isn't. More than half the departing CEOs — 55 percent — in the six years we have studied did not hold the title of chairman. Just 28 percent carried both titles through their entire tenure.

Splitting the roles of chief executive and chairman does not result in higher returns for shareholders. The norm in Europe for at least a decade, dividing the positions of CEO and chairman has become the governance movement's cause célèbre in the U.S. But returns to investors are lower — 4.7 percentage points per year lower in Europe, and 4.1 percentage points lower in North America — when the roles are split.

The outsider who comes in to whip a company into shape is more likely to get a thrashing. Forced turnover of CEOs who were hired from outside the company reached striking levels in 2003: In North America, 55 percent of outsiders were forced to resign; in Europe, 70 percent left involuntarily.

The best-performing leaders already have experience at the company they are leading. Prior service as a chief executive does not correlate with superior performance. To the contrary, over the six years of our study, CEOs who had previously led other companies delivered returns for investors 3.7 percentage points per year lower than first-time insiders.

A tough job is taking its toll on CEO tenure. Average tenure for chief executives who left office last year was only 7.6 years, among the lowest we've seen since 1995.

The younger the CEO when hired, the higher the likelihood of being fired. Chief executives forced from office last year were, on average, 49 years old when they were hired; CEOs who retired voluntarily were five years older when they started.