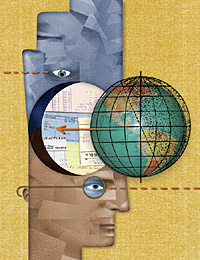 What do end-users think of your product? What are their views on how it can be improved? Although addressed continually by enlightened executives throughout the world, these questions are not asked enough by the institutions that teach those executives: business schools. And that's a pity, for graduate schools of business are missing a historic opportunity: to help make globalization work for the globe.

Over the last year, as part of an exercise to determine London Business School's role in the education and training of the next generation of business leaders, we conducted more than 100 face-to-face interviews with executives from global companies across a variety of industries and geographies. For those of us involved in educating managers, these men and women, located in more than 20 countries, are our ultimate customers. They are the people who recruit from the 100,000 or so students who earn master of business administration (MBA) or equivalent degrees every year from more than 750 institutions around the world, and who pay for executive education to improve their managers' skills and value.

The research was begun in response to a suspicion that our customers "had issues" with our product. Despite London Business School's ranking as one of the world's leading business schools, only about a third of the U.K.'s top 100 employers "bought" our MBAs, and roughly the same proportion used our executive education. We needed to understand why, and whether we were offering what they, and other employers throughout the world, needed.

Our questions were basic, the sort any business executive would ask his or her customers. What are the skills executives require? How might they change in the future? What must your people be able to do for your company to remain successful? And how can we help you meet these needs?

Interviewees included, in North America, Jeffrey Immelt, chairman and CEO of General Electric; in Europe, Nicolas Hayek, chairman and CEO of the Swatch Group; in Asia, Ho Kwon Ping, chairman of Banyan Tree Hotels and Resorts; in South America, Carla Cico, CEO of Brasil Telecom; and, in the Middle East, Prince Feisal bin Al-Hussein, commander-in-chief of the Royal Jordanian Air Force.

We expected their answers to be as straightforward as the questions. We anticipated a dialogue about what global managers needed to know. How aware must the contemporary executive be of strategic options, complexity theory, and other frontiers of strategic thinking? To what degree do executives have to be able to select and manage talent — and do so across cultural and national boundaries? How important are ethics and integrity to the executive operating globally? How familiar must he or she be with developments — and anticipated developments — in information technology? How can the enterprise take advantage of the expected increase in skills within developing countries to plan in advance the offshoring of currently integrated functions?

So we were surprised by both the breadth of the responses and what they revealed about the future direction of executive education. The corporate leaders we interviewed indeed produced an extensive list of qualities they desired in future recruits, but almost none involved functional or technical knowledge. Rather, virtually all their requirements could be summed up as follows: the need for more thoughtful, more aware, more sensitive, more flexible, more adaptive managers, capable of being molded and developed into global executives.

Herein lies a stark challenge for business schools. For the better part of four decades, we have specialized in content specialization. Responding to the rapid changes of the last four decades, we began arming our graduate students with knowledge that extended well beyond traditional regression analyses and case studies. We began educating IT experts who would be ready to enable their future employers to contend with the next wave of Internet-enabled supply chains. We provided students advanced courses on organizational psychology so they would understand how employees' drive for personal fulfillment was transforming command-and-control environments.