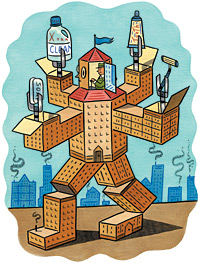 The Gillette Company came to market in 2004 with a new razor, the M3 Power, that actually blows whiskers away from the skin for a closer shave. Battery-powered yet bladed, the product blew away the competition just as effectively. Weeks after its May 2004 introduction, the M3 Power was the top-selling razor in the United States, and helped Gillette, one of the consumer products industry's consistently great innovators, to a whopping 26 percent rise in second-quarter profits. Gillette told investors in late July that sales of razor blades, oral care products, and batteries were up, too. It seemed like good times were rolling.

But the stock market responded by shaving Gillette's stock price by more than 5 percent. Why? Although effective cost cutting has contributed to Gillette's profits, the company's annual rate of sales growth shrank from a 10-year average of 6 percent (from 1993 through 2003) to 1 percent over the three years from 2000 to 2003. Over the long term, it takes consistent revenue growth to deliver outstanding shareholder returns.
If Gillette is taking it on the chin despite a long-term initiative aimed at turning innovation into growth, so are many of its consumer packaged goods (CPG) peers. Unilever and Colgate are among the other giants punished by shareholders for revenue and earnings growth deemed disappointing. Top-line growth in the industry often is an optical illusion, barely keeping pace with the "natural" growth rate — population growth plus the rate of inflation. Most CPG companies say they anticipate top-line growth of only 3 to 5 percent annually, and profit growth of 8 to 12 percent, generally premised on new rounds of cost cutting. Most consumer products companies that have grown more have accomplished the feat by acquisition.
But the real surprise isn't that most CPG companies barely have managed to run with a very slow pack. It's that some have flourished. Indeed, the difference between growth leaders and laggards can be stunning. Wrigley, for example, has delivered annualized revenue growth of 8 percent for the past 10 years, and grown operating income by 9 percent a year — impressive in almost any industry and nearly double the CPG sector's average growth rate of 4.7 percent.
What are the CPG winners doing right? In virtually every case, they have found ways to surmount the "customization conundrum." Consumers, retail customers, and institutional customers increasingly demand specific products and services tailored to their particular needs. Successful CPG companies outflank competition and powerful channel partners by identifying a distinctive, brand-linked value proposition. They build strategically differentiated businesses around this competitive advantage. They customize service offerings to suit the shopping occasion, the channel, and the customer. They understand the profitability potential of different channels and consumer segments. They budget sales and marketing expenditures to support such "smart customization."
But in order to finesse and sustain such complexity, smart customizers have also done something utterly countercultural in an industry that for decades has been characterized by broadening portfolios and higher degrees of decentralization: They have strengthened the corporate core.
At the best consumer products companies, the corporate centers are not passive holding companies. Under their new business model, the core actively drives profitable growth across the organization, by deploying an advantaged business model across numerous categories, geographies, and channels. Instead of letting a thousand flowers bloom, today's CPG stars:
Define the differentiated business focus and align portfolio and investment decisions with it by assigning different roles to different parts of the business.

Develop innovation, marketing, and channel management capabilities that are systematically shared across the portfolio.

Structure the organization for growth and improve competitive agility while realizing scale advantages in shared services.

Manage growth by balancing the pursuit of short-term wins and longer-term "breakthrough bets."