At a Home Depot store just outside Atlanta, a vacuum cleaner made by Dyson, the U.K. appliance maker famous for its design, sits on a small square of gray carpet at the edge of an aisle. The display is so unobtrusive, anyone passing by might think a store assistant had placed it there as an afterthought.
But little at Home Depot Inc. happens by accident. Rather, the positioning of the Dyson vacuum shows just how firmly Chairman, President, and Chief Executive Officer Robert L. Nardelli and his passion for precision processes and meaningful metrics have taken hold at the retailer. In-store research has revealed that the chain can sell more vacuums if they are placed on a patch of carpet — not in every one of its 1,850 stores, mind you, just in the stores where vacuum sales underperform sales targets. The research-based strategy signals how far management is willing to go to get inside consumers' minds, and influence their thinking, just at the moment they're primed to make a purchase.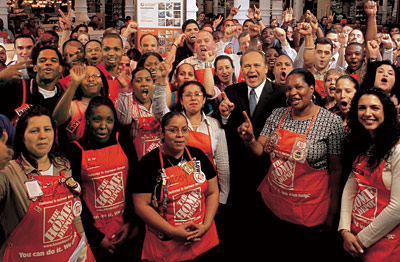 The vacuum-on-the-carpet idea is the product of a company-wide Six Sigma program, one of Mr. Nardelli's favorite management disciplines. Six Sigma originated as part of the total quality movement's assault on manufacturing defects. But many of its most ardent proponents — among them GE's legendary CEO Jack Welch (Mr. Nardelli's former boss) — use the concept as a way to push employees in every job to strive for perfection.
Fearful of alienating workers, however, it was only after three years at Home Depot that Mr. Nardelli felt comfortable introducing Six Sigma. "Otherwise, it would have been me pushing it down everyone's throats, and it would have been looked at as Bob's wild idea," he says. "At the beginning I could see everyone was scared I'd speak in Six Sigma tongue."
Ensuring that disciplines like Six Sigma support Home Depot's human capital strategy is at the core of Mr. Nardelli's leadership approach. Of course, executives must be attentive to the efficiency of strategic processes: making the supply chain as lean as it can be, using scale to unseat competitors, leveraging IT to reduce costs, and finding the right marketing formulas. But senior executives are starting to realize that unless they can get the people in their organizations mobilized and energized in support of business priorities, success will elude them.
Whether a company is in search of double-digit growth, culture change, or blockbluster products, the importance of the human side of transformation can never be underestimated in the execution of its strategy. As the dean of management excellence, Peter Drucker, wrote in a 1994 Atlantic Monthly essay: "The essence of management is not techniques and procedures. The essence of management is to make knowledge productive."
Every day, the degree to which physical assets have become commodities becomes clearer to executives. The competitive edge lies in human capital. "Bricks and mortar, anyone can buy," says Sue Meisinger, president of the Society for Human Resource Management. "Information and technology are accessible. What distinguishes a business these days are its people."
Nowhere is this truer than at Home Depot. This is a company that fundamentally relies on the quality, not just the quantity, of human interactions to stay on top in its business. Its 325,000 shop assistants interact with customers about 3 billion times per year, and often at a very personal level — helping them select items like kitchen sinks and toilets. Every month, the volume of activity rises. The retailer opens a new store every 48 hours, and receives more than 10 million job applications every year.