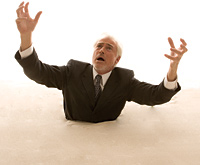 That giant sucking sound heard in the business world during 2004 was the extraction of chief executives from seats of power. Dissatisfied shareholders removed Richard Shirrefs from Eurotunnel in April. Coca-Cola Company, wracked by managerial turmoil and a declining stock price, replaced Douglas Daft in June. A board struggle at the European Internet service provider T-Online ended in September with the resignation of chief executive Thomas Holtrop. In December, Franklin Raines was fired from the American mortgage insurance company Fannie Mae in the midst of an accounting scandal. Since then, of course, the rapid pace of CEO departures has continued. The first quarter of 2005 brought headline-generating forced successions at Disney, Hewlett-Packard, Boeing, and AIG, linked to shareholder dissatisfaction, scandal, or both. These episodes, along with dozens of others, are prompting scholars, consultants, the business media — and, naturally, executives and directors themselves — to ask whether we have reached a tipping point, in which power in the corporation is permanently shifting away from chief executives.
The answer, as Booz Allen Hamilton's annual study of CEO succession at the world's 2,500 largest companies shows, is that we are past that tipping point — not just in North America, but even more dramatically in Europe and Asia. More than 14 percent of the CEOs of these corporations left office in 2004. Of that group of departing CEOs, nearly a third — 111 individuals, representing 4.4 percent of the total chief executive population — were forced from office for performance-related reasons or because of disagreements with their boards. This is the highest level of forced resignations we have seen. It represents a 300 percent increase over 1995, the earliest year we benchmarked. In short, four years after our first CEO succession study concluded that early departure of chief executives is the "new normal" for corporations, the age of the ephemeral CEO is here.
The trend is undeniable, and the implications profound. Dissatisfied large shareholders and other corporate constituents have wrested power from imperial chief executive officers in all the world's major economies. This is a natural response to today's difficult corporate environment — continued pressure for investment returns, geopolitical uncertainties, expanded regulatory oversight, and international talent wars — along with the perceived or real inability of many CEOs to deliver. Chief executives thus are being treated more in the manner to which other executives and middle managers have long become accustomed: Hit your numbers or hit the road. Endanger or embarrass the company, and you're history.
This shift was evident in North America even before the turn of the millennium. In Europe and Asia, by contrast, the shift is relatively new. Rates of forced departures and total turnover of CEOs are speeding up. In 2004, the probability that a CEO would be fired was nearly twice as high in Europe as in North America.
The continuing insecurity of chief executives raises many troubling questions about the conduct of business. Has the shareholder activism movement gone too far? Is the imperative to "deliver or depart" leading CEOs to focus more on short-term tactics than long-term strategy? But even as policymakers and executives grapple with the answers, this transformation in company leadership means that would-be chief executives today require skill sets strikingly different from those needed by CEOs in the past. And it means that boards and management together need to adapt their organizations and processes to an environment where executive leadership is no longer dominant by default.
"The power has shifted," says Eleanor Bloxham, president of the Corporate Governance Alliance, which advises companies and investors on board–management relationships. "Directors are telling me that, once they get used to it, they think this new level of scrutiny of the CEO is good. They like their strategic involvement, and they intend to keep it."