Like many chief executives, Ricardo Semler used to wonder what would happen to his company if he were hit by a truck. One night in February 2005, he found out — while driving 85 miles per hour on a highway in Brazil.
Miraculously, he was still alive within the 20-inch pancake of crushed steel and shattered glass that remained of his car. Also miraculously, his company, Semco Group, of São Paulo, Brazil, carried on seamlessly during the months he spent lying in intensive care and recuperating from the multiple surgeries he needed to repair his broken neck and battered face. Numbers were met, deals were closed, and business continued pretty much as usual.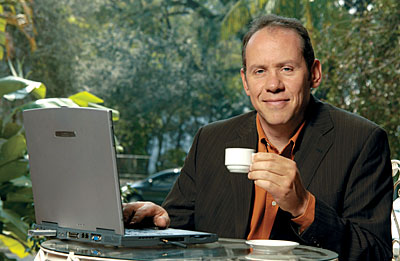 Photographs by Rogério Reis / Blackstar
Mr. Semler, 46, is the leading proponent and most tireless evangelist of what has variously been called participative management, corporate democracy, and "the company as village." As proposed 45 years ago in a book called The Human Side of Enterprise, by Douglas McGregor, one of the founders of the field of organizational development, participative management says that organizations thrive best by trusting employees to apply their creativity and ingenuity in service of the whole enterprise, and to make important decisions close to the flow of work, conceivably including the selection and election of their bosses. Underneath this is a view of human nature that Professor McGregor called "Theory Y," which holds that ordinary people don't have to be managed with the "carrots and sticks" of incentives and controls. Instead, people are naturally capable of self-direction and self-control, even in a corporate or bureaucratic setting, if they're committed to the organization's goal and if they are treated as mature adults who can learn from their actions and errors. Participative management has inspired a fiercely dedicated following, and many managers find it appealing and compelling in principle, but it is often dismissed as utopian and naive in the real world of conventional workplaces.
Even among the true believers, though, Mr. Semler is in a class by himself. His credentials as a thinker are impressive: He has gained a worldwide following as both a guest lecturer at Harvard Business School and MIT's Sloan School of Management, and an author with a long list of bestsellers to his name. But what makes Ricardo Semler all the more notable is the way he has put theory into practice. Many people have talked the talk of corporate democracy; his company walks the walk.
In the last two decades, Semco, a maker of industrial machinery like giant oil pumps and restaurant dishwashers, has operated as a real-world laboratory for Mr. Semler's radical approach to leadership. For the most part, the Semco experiment has been a huge success. An investment of $100,000 made in Semco 20 years ago would be worth $5.4 million today — a rare record of profitability that by all accounts stems directly from the participative management approach that Mr. Semler champions.
"I just wish that more people believed him," laments Charles Handy, the British management guru and social philosopher. "Admiring though many are, few have tried to copy him. The way he works — letting his employees choose what they do, where and when they do it, and even how they get paid — is too upside-down for most managers. But it certainly seems to work for Ricardo."
Mr. Semler's Planet
To see Semco's approach in action, just visit the company's pump plant on the outskirts of São Paulo. This operation bears about as much resemblance to a traditional factory as the rainbow hues of its walls — the choice of the employees — do to industrial gray. Forget about foremen barking out orders to passive proles. On any given day, a lathe operator may himself decide to run a grinder or drive a forklift, depending on what needs to be done. João Vendramin Neto, who oversees Semco's manufacturing, explains that the workers know the organization's objectives and they use common sense to decide for themselves what they should do to hit those goals. "There's no covering your ass," says Mr. Neto. "The intent is to get straight to specific targets."