The year 2005 may mark the crest of a long wave of governance reform that began washing across the global corporate landscape in the late 1990s. This wave has made life more difficult for the stereotypical "imperial CEO" of years past. It has made boards of directors more active and powerful. It has brought some of the previously hidden dynamics of those boards into the light. And it has given shareholders more opportunity to take action against CEOs who consistently underperform. Chief executives who can produce results are in greater demand than ever before. But the difficulties of delivering performance are also greater.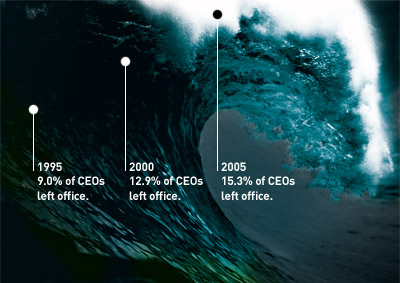 Photograph © Royalty-Free/Corbis. Photo Montage by Opto
The evidence? Global turnover of CEOs set another record in 2005, with more than one in seven of the world's largest companies making a change in leadership — compared with only one in 11 a decade earlier, according to our annual study of chief executive succession at the world's 2,500 largest public companies. The rate of outright dismissals was also near its peak: Four times as many of the world's top CEOs were forced out last year as in 1995. Ten years ago, the CEO's job was all about "stewardship" of the corporation's assets for stakeholders; today, it's all about the bottom line for investors.
There is reason to think that the wave of CEO turnover is cresting, however. The global rates of CEO departures, including CEOs who are fired as well as those who retire or leave as part of a planned succession, are starting to flatten out. Nonetheless, we don't expect turnover to decline too much. Investors' focus on performance is here to stay.
Because of heightened performance demands, we sense that a new governance dynamic has begun. This movement aims to proactively change corporate strategies in order to create shareholder value. Institutional investors, private equity firms, and hedge funds are at its forefront. Consider the demand of billionaire investor Kirk Kerkorian that General Motors adopt a radical restructuring plan, or hedge fund manager William Ackman pushing McDonald's to sell company-owned restaurants. Just as they did in the early days of the 1980s corporate raiders, boards of directors are becoming more engaged with the management of their enterprises. Reacting to the strategies and plans developed by managers is no longer enough for boards. Increasingly, they will be involved in proposing their own value-creating changes in direction.
Booz Allen Hamilton's annual study of chief executive turnover is now in its fifth year, and it is as relevant to this new governance wave as it was to the previous one. Our unique database of performance over the full tenure of CEOs enables us to assess the impact of the single most important decision a board of directors makes: the choice of a chief executive officer. This year, we focus on the desirability of hiring an experienced CEO; we consider the best background for the chairman of the board; and we examine when to hire — and when to fire — an outsider chief executive.
Our research also illuminates the larger debate on corporate governance that has engaged business leaders, institutional investors, scholars, and policymakers during the past few years. Some business observers have argued that recent institutional, regulatory, and legislative reforms didn't go far enough; they say that many boards of directors are still too unwilling to replace underperforming chief executives. Other observers suggest that the reforms were overkill and want to roll them back. The CEO succession study provides quantitative data concerning the impact of alternative governance arrangements on share values, and it suggests which characteristics of potential CEOs are most likely to increase a company's effectiveness.