The drought of 2006 in London, the worst in a century, will be remembered for the dirty little secret it exposed. Hundreds of thousands of liters of water — enough to fill 10 million bathtubs — were leaking every day from the city's old and rotted pipes, some of which dated back to the Victorian era.
Around the same time, 3,000 miles away, a blackout in the New York City borough of Queens left nearly 100,000 people without electricity for nine days. Local officials were at a loss to explain the failure. Customers later learned that this borough, with more than 2 million residents and 15 percent population growth since 2000, gets its electricity through utility feeder cables that are 30 to 60 years old. These narrow and corroding conductors were not only unable to keep up with rising demand; they had also made it difficult for engineers to diagnose the breakdown.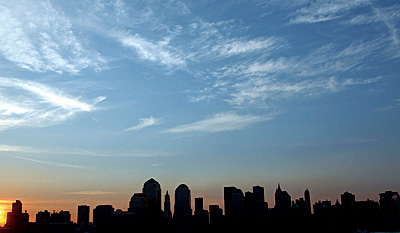 Across the world in Lagos, Nigeria, people were coping with a messy but familiar problem. It could take hours to travel even a couple of miles by car in this metropolitan area of more than 10 million people. The traffic authorities routinely ordered psychiatric tests for those drivers accused of jumping curbs, driving on the wrong side of the street, or starting fistfights — a form of lawbreaking brought about by what is known even officially as "insane gridlock."
Cairo, Los Angeles, Beijing, Paris, Moscow, Mumbai, Tokyo, Washington, Sao Paulo: Each major city has its own story of electricity, transportation, or water systems in crisis. Although the circumstances vary from one urban area to the next, they all have one thing in common: The critical infrastructure that is taken for granted by both their citizens and their government leaders is technologically outdated, woefully inadequate, increasingly fragile, or all of the above. In some cities, the quality of water, power, and transportation infrastructure is noticeably declining. In others, it was never very good to begin with. And few cities have enough of it to meet future needs.
An estimate developed by Booz Allen Hamilton suggests the magnitude of the problem. Over the next 25 years, modernizing and expanding the water, electricity, and transportation systems of the cities of the world will require approximately $40 trillion (see Exhibit 1) — a figure roughly equivalent to the 2006 market capitalization of all shares held in all stock markets in the world.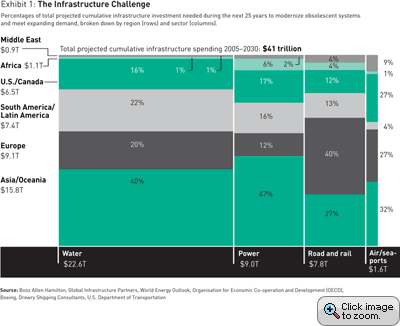 The challenge is exacerbated because we do not start with a blank sheet of paper. Cities have histories, cultures, dense populations, property rights, and deeply embedded political interrelationships that all demand respect. Past efforts to improve urban infrastructure have often led to disappointments. Not all projects have been equally deserving, not all forms of financing are equally advantageous, only some decision makers are sufficiently frugal and trustworthy, and wise judgment is not always applied in making and executing choices. Moreover, expertise cannot be applied the same way around the world: Getting an infrastructure project approved requires an entirely different political process for the multiple competing authorities of metropolitan New York than for the hierarchical government of a Chinese city like Beijing.
But the cost of not meeting the challenge could be even greater than $40 trillion. The global economy is rooted in an urban lifestyle, which evolved with basic assumptions that millions of people take for granted. They can commute from work to home, and have access to light, heat, and water at the flick of a switch or a tap. Anyone who has lived without that access — for example, in Abidjan during its frequent blackouts, in Mumbai, where water supply is restricted to a few hours per day, or in New York in the days after the 9/11 attack when transportation came to a halt — knows how difficult it is to function without it. Moreover, the prime enabler of global trade is the increasingly complex just-in-time supply chain logistics system, which depends, in turn, on reliable power, mobility, and water. A city's ability to respond effectively to a crisis, such as pandemic disease or a terrorist attack, also depends on robust infrastructure: not just standard access to water, power, and mobility, but the extra capacity and backup needed for life under duress. In short, although the threats of global climate change and terrorist attack have occupied much of the industrialized world's collective attention, inadequate and fragile urban infrastructure could well do more harm to a larger number of people.