Barry Nalebuff has a hankering for ice cream. Not just any ice cream. He wants a particular organic recipe, developed by a startup with a stall located somewhere in the maze of booths in the Baltimore Convention Center at a trade show called Natural Products Expo East. An economist and professor at Yale University's School of Management, Nalebuff is also the chairman of Honest Tea, an organic beverage company he started in 1998 with former student Seth Goldman. That role has brought him, in October 2006, to Baltimore to meet with buyers, investors, and distributors. What he seems to enjoy most at the show is his role as booth "hunk" (as his staffers call it) — pouring tea and answering questions from all comers. It's the kind of thing that clearly goes better with a little ice cream. "Let's get a snack," Nalebuff says to a visitor, and he's off into the chaos of the convention hall.
Honest Tea's chairman, 48, looks like a stereotypical absent-minded professor, with curly hair sprouting from his head and green-accented spectacles perched on his face. But he is also a hard-edged business analyst. Walking the aisles at the convention center, he stops at every food business he passes to ask questions of the proprietors. What is the sourcing? Who designed the packaging? How is it distributed? Does it taste good? Given an opening, he almost always has a suggestion for trying things differently or looking at a challenge from a new perspective. Meanwhile, between booths, he describes the equity structure of Honest Tea and the debt it owes to the mathematical field called game theory. His references range from Donald Trump to economists James Mirrlees and William Vickrey, who shared the Nobel Prize in 1996 for their work in applying game theory to incentive problems.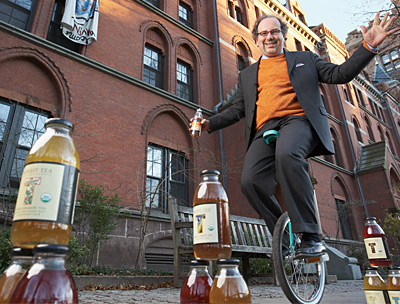 Barry Nalebuff is a rare breed: a working economist who also runs a business. He made his name in academic circles with two related ideas. The first was the application of game theory to business strategy. The second was "co-opetition": a strategic way for managers to work with rivals, balancing the tension between growing a pie together and competing to get the biggest piece. The theme tying together his academic work is the determination to apply game theory to ignite innovation and tackle real business problems — a practice he has pursued in consulting stints with Columbia Forest Products, Eli Lilly and Company, Johnson & Johnson, and General Electric, among many other companies. He is one of the enviable handful of "creativity consultants" corporate leaders bring in to shake up calcified thinking, tease out innovative solutions, or game out the possible permutations of a deal in the offing.
"Barry has this particular intellectual agility that allows him to reduce business problems to their practical essence," says Lydia Micheaux Marshall, who sits on the board of Nationwide Insurance with Nalebuff and who hired him as a consultant to Sallie Mae. "But at the same time he is able to tie in lessons of economic theory."
Nowhere has Nalebuff's creative and practical approach to economics been more deeply integrated into a company than in his own. Both literally and figuratively, Honest Tea puts Nalebuff's theories on display. For starters, the labels of its lightly sweetened drinks — the products that launched Honest Tea — spell out the rationale for the sugar content, including a chart illustrating the decreasing marginal utility of sweeteners. This little chart educates tea drinkers in the Nalebuff Approach, in which solutions lie in examining problems from new perspectives and calling on economic theory to bolster the response. In other words, how can you get great taste without a lot of calories? Not by eliminating sugar, but by skimping on it. A little sugar adds taste (marginal utility), whereas a lot of sugar adds only calories (declining marginal utility).