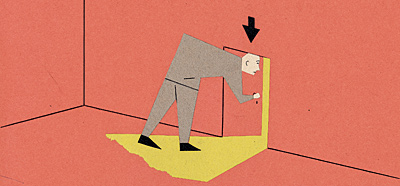 Scott Berkun
The Myths of Innovation
(O'Reilly Media, 2007)
Bill Buxton
Sketching User Experiences: Getting the Design Right and the Right Design
(Morgan Kaufmann, 2007)
Bob Johnstone
Brilliant! Shuji Nakamura and the Revolution in Lighting Technology
(Prometheus Books, 2007)
Scott Rosenberg
Dreaming in Code: Two Dozen Pro-grammers, Three Years, 4,732 Bugs, and One Quest for Transcendent Software
(Crown Books, 2007)
---
Joseph Schumpeter, the eminent 20th-century economist who famously described entrepreneurship as a form of "creative destruction," proffered a lesser-known, pithier epigram for 21st-century innovators. "In­novation," he wrote, "is ultimately not an act of intellect but of will."
If only it were that straightforward. Invariably, seemingly fundamental truths about innovation turn out not to be true; yet somehow even the most disruptive technological innovations end up reaffirming the hoariest innovation clichés. To CEO and entrepreneur alike, it's painfully unclear whether intellect, will, or plain dumb luck will end up playing the starring or the supporting roles when enterprises innovate.
Three excellent books about innovators and innovation in 2007 happen to be written by authors who come from the world of software development: Dreaming in Code: Two Dozen Programmers, Three Years, 4,732 Bugs, and One Quest for Transcendent Software, by Scott Rosenberg; The Myths of Innovation, by Scott Berkun; and Sketching User Experiences: Getting the Design Right and the Right Design, by Bill Buxton. The Japanese electronics industry is the setting for another worthwhile read, Brilliant! Shuji Nakamura and the Revolution in Lighting Technology, by Bob Johnstone. Collectively, these books do a comprehensive job of capturing what innovation means at this moment. Each book has a profoundly different sensibility and serves a specific business readership — from software programmers to industrial designers. However, all of them are compelling for general management consumption, and their rhetorical similarities are as serendipitously compelling as their differences.
One Day at a Time
Smart, talented, and determined people often "obey" only their own vision. That makes for great stories, albeit unhappy ones. Dreaming in Code is just such an unhappy tale, well told. Its lead character is Mitchell Kapor, who founded the Lotus Development Corporation, recruited software developer Ray Ozzie (now Microsoft's chief software architect) and co-created with Ozzie and others the Lotus 1-2-3 software spreadsheet in the 1980s.
Kapor has always wanted to be a different kind of "infopreneur." He has an eye for software talent and a fascination with the challenge of organizing personal information in novel ways. Taking aim at the global business culture of "proprietary software" development, Kapor helped launch the Open Source Applications Foundation, with a sensational team of programmers who set out to out-Google Google and out-Apple Apple in the design and development of a personal digital assistant product. Code-named "Chandler" (as in Raymond Chandler, the crime fiction writer), the project was intended to solve problems of personal information management that users didn't even know they had. Chandler would allow individuals to organize and improvise all manner of personal management tools and effects, such as calendars, files, photos, and address books.
The project's ambitions and plans were always a moving target, which is where its troubles began. Chandler's likable cast of creative characters became foils for Scott Rosenberg's examination of the painful software design trade-offs that were involved in Chandler's complex innovation agenda. As a journalist "embedded" in the project, Rosenberg, a cofounder of Salon.com, the San Francisco–based online magazine), was witness to every meeting that mattered as this band of talented coders, hackers, programmers, and designers tried to rapidly reinvent a software genre. But as page after remorseless page of Dreaming in Code documents, these folks blew every deadline they set for themselves. You can almost feel Rosenberg's sickening realization — and revulsion — as the project he's decided to Boswell sinks deeper into the gooey tarpits of delay. As Frederick P. Brooks Jr., the IBM software architect who authored the classic memoir The Mythical Man-Month: Essays on Software Engineering (20th-anniversary ed., Addison-Wesley, 1995), once rhetorically asked, "How does a project get to be a year late?" His chillingly simple answer: "One day at a time."