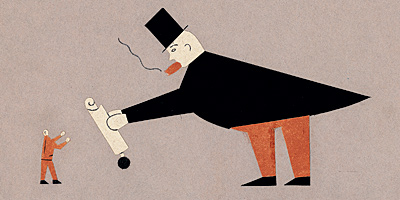 William J. Baumol, Robert E. Litan, and Carl J. Schramm
Good Capitalism, Bad Capitalism, and the Economics of Growth and Prosperity
(Yale University Press, 2007)
Karen Blumenthal
Grande Expec­tations: A Year in the Life of Starbucks' Stock
(Crown Business, 2007)
Stephen Davis, Jon Lukomnik, and David Pitt-Watson
The New Capitalists: How Citizen Investors Are Reshaping the Corporate Agenda
(Harvard Business School Press, 2007)
Bruce Franklin
The Most Important Fish in the Sea
(Island Press/ Shearwater Books, 2007)
Thomas K. McCraw
Prophet of Innovation: Joseph Schumpeter and Creative Destruction
(Belknap Press of Harvard University Press, 2007)
---
The living standard of Americans is 10 times greater today than it was a century ago. In China, which is making its spectacular economic transition from centrally planned to capitalist markets, average living standards are doubling about every seven years. Formerly debt-burdened economies in Latin America are growing. Although dozens of countries still have per capita income levels far below those the United States had achieved by 1870, economic growth in many more countries is now substantial, delivering an impressive quantity and quality of goods and services — as well as better health, better education, and longer lives. Global growth has also become more stable. Since the mid-1990s, the volatility of all the rich economies has diminished significantly. For the past two decades, capitalism has improved the lives of more and more people around the world. With such achievements, why would anybody want an alternative system to run our economies and societies?
Yet there are vocal challenges to capitalism. Some come from ardent environmentalists who believe economic growth inevitably harms the environment, perhaps catastrophically so. Others arise from the nationalist politicians of Latin America who are opposed to the influence of global firms in their countries. In Europe, a coalition of labor unions and anti­corporate campaigners demands corporate social responsibility and opposes the takeover of businesses by private equity groups and the growing role of hedge funds in financial markets. Polling evidence from many countries, such as the Pew Global Attitudes Project or Eurobarometer survey results, suggests a generalized sense of insecurity, which people blame on globalization — capitalism without borders.
Critiques of capitalism tend to reflect three factors: wariness of capitalism's alleged degradation of the qual­ity of life, sacrifice of the public good for private gain, and the turmoil of unchecked growth. These themes run through analyses of the spectacular growth of the 20th century, including the writing of the Hungarian political economist Karl Polanyi (in The Great Transformation, 1944), the works of economist John Kenneth Galbraith, and more recently those of sociologist Richard Sennett, who believes that capitalism has so changed our value system that "stability as such increasingly lacks moral prestige," as he puts it in The Culture of the New Capitalism (Yale University Press, 2006). Several new books focus on the perennial tensions between good and bad capitalism through the perspective of 21st-century concerns. Each author — a Harvard Business School management his­tory professor, a Wall Street Journal reporter, three leading university- and foundation-based economists, a professor of English and American studies, the former deputy comptroller of New York City, a leader of a socially responsible investment fund, and a corporate governance expert — brings his or her own experiences to the subject.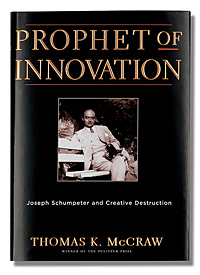 Prophet of Innovation
The thinker who, more than anybody else, captured the tension between the two aspects of capitalism — rising prosperity and the inherent instability it brings — was Joseph Schumpeter. The economist behind the notion of "creative destruction" is often viewed as a mindless disciple of the capitalist system. Certainly he insisted on the importance of entrepreneurs, "the pivot on which everything turns," as he described them. However, as the marvelous new biography Prophet of Innovation: Joseph Schumpeter and Creative Destruction, by Thomas K. McCraw, shows, Schumpeter well appreciated capitalism's negative aspects. McCraw, a professor emeritus of business history at Harvard Business School, explains how Schumpeter's in­sights about capitalism, universal as they are, stemmed from his own experiences of an extraordinarily turbulent period in world history, spanning two world wars. The book is an exemplary work of biography, rooting the ideas of its subject firmly in the context of his life. Schumpeter understood that capitalism could become materialism, that human relationships could suffer from the calculation of personal costs and benefits, and that businesses could and would seek a profit on anything, no matter how distasteful.