As business becomes increasingly global, corporate innovation strategies are becoming more global as well: Multinational companies are spending a significant — and growing — share of their research and development money outside the countries in which they are headquartered. Booz & Company's annual Global Innovation 1000 study found that in 2007, the top 80 U.S. corporate R&D spenders deployed an estimated US$80.1 billion of their $146 billion R&D funds overseas. The top 50 European companies spent $51.4 billion of their $117 billion total outside the continent. In Japan, the top 43 Japanese firms exported $40.4 billion of their total $71.6 billion to other countries.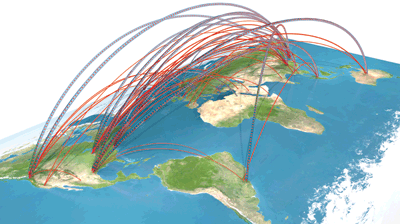 At first glance, observers might think that this represents a loss of jobs, intellectual power, and influence for the home countries of these companies. But innovation spending seems to flow in both directions at once. Even as the companies based in the U.S. performed $80.1 billion worth of R&D in other countries, companies headquartered elsewhere poured $42.6 billion into R&D conducted in the U.S. (See Exhibit 1.) In fact, 40 percent of the money spent on R&D in the U.S. is spent by companies headquartered elsewhere. The total amount of R&D spending in the U.S. is 2.7 times as great as in Japan, whereas the spending generated by companies headquartered in the U.S. is only two times as great. Moreover, companies that invest wisely in a multinational innovation footprint are gaining far better returns on their R&D investment than companies that exclusively keep their laboratories at home — or that fragment them across a wide variety of locations.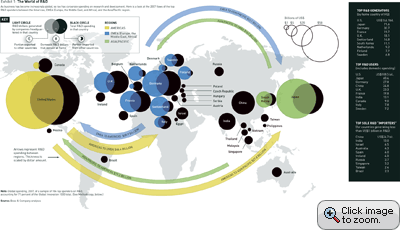 The study found that the Global Innovation 1000 companies are spending an average of 55 percent of their innovation dollars outside their home country, demonstrating how international the practice of innovation has become over the past several decades. All the biggest companies are now multinational, and their R&D footprints reflect the need to succeed in the global economy — to compete against nimble and fast-growing local and international operators, win share in unfamiliar new markets, understand the customers in those markets, recruit talented scientists and engineers, and capture the best ideas from around the world. Fully 91 percent of this year's Global Innovation 1000 already conduct innovation activities outside the countries in which they are headquartered.
This year's study is the fourth of our annual analyses of corporate spending on innovation and its effect on corporate performance. As in previous years, we identified the 1,000 public corporations worldwide that spend the most on researching and developing products and services for their marketplaces. Those 1,000 companies spent a total of $492 billion in 2007 on R&D, a 10 percent increase over the prior year, and, once again, we found no statistically significant evidence that higher levels of spending guarantee better results. Geographically, global R&D would seem at first to be centered in the United States, Europe, and Japan; companies headquartered there made up 94 percent of the total in 2007, down just one percentage point from the prior year.
But that geographic distribution hides a trend we have long been aware of: More and more companies are conducting critical R&D outside their home countries. Thus, this year, we took on two new questions: How far have major multinational corporations gone in globalizing their R&D footprint? And, What is the effect of the globalization of corporate R&D on performance? In addition, we looked in depth at the globalization experience of the three industries that lead in total R&D spending: auto, health care, and computing and electronics (C&E). The results have much to say about the globalization of business and the innovation engines that support it.