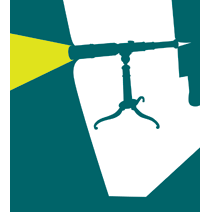 Charles Handy
Myself and Other More Important Matters
(AMACOM, 2008)
Richard Sennett
The Craftsman
(Yale University Press, 2008)
Rakesh Khurana
From Higher Aims to Hired Hands: The Social Transformation of American Business Schools and the Unfulfilled Promise of Management as a Profession
(Princeton University Press, 2007)
Robert Coles and Albert LaFarge, eds.,
Minding the Store: Great Writing about Business from Tolstoy to Now
(The New Press, 2008)
---
In an era when even the dividing line between fiction and nonfiction is blurred, it has become difficult to precisely define the business book. Should David Nasaw's Andrew Carnegie (reviewed here last year) be shelved in history, biography, or business? Similarly fuzzy are distinctions between subcategories of business books. Is Lou Gerstner's instructive tale of the transformation of IBM (Who Says Elephants Can't Dance?) a management book, a leadership guide, or a corporate history?
The fact is that many books of value to executives inhabit what novelist Michael Chabon described as "the boundary lines, the margins, the secret shelves between the sections in the bookstore." Thus, this year, I take a look at four fine books that defy categorization and fall between the cracks. Each differs greatly from the others in terms of subject matter, but what they have in common is that they all are far better written than most books that can be set squarely on the business shelf. Indeed, it often seems as though many of those books aren't written to be read at all; many are single-point articles inflated to fill the space between two covers and are written to facilitate skimming and summarization. In contrast, the books reviewed be­low need to be read carefully; they require the investment of thought. These are books you actually will want to read.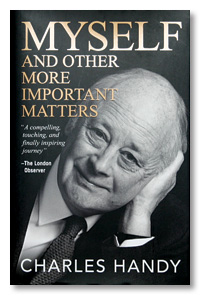 Autobiography (Sort Of)
My favorite and the year's best border-spanning book is Charles Handy's Myself and Other More Important Matters, which its publisher correctly, and unhelpfully, places in the business/
autobiography/economics/social science category! Handy is America's favorite British management guru, the Peter Drucker of the other side of the pond, and for two decades, his books have inspired a common reaction among American business authors: envy. His prose is graceful, engaging, and literate in a manner to which most American business writers can only aspire. Warren Bennis, America's best business writer (and in the spirit of disclosure, along with Handy, a good friend of mine), praises Handy's "philosophical elegance and eloquence," his unique ability to elevate the mundane concerns of commerce to a higher plane. He's right; Handy's books are gems of distilled wisdom. It is not that he comes to conclusions terribly different from those of his peers; he simply articulates them more crisply and with greater clarity. In a single paragraph, he can illuminate the essence of a complex idea that an American business professor would take a chapter to obfuscate.
Gifted as he is, Handy is humble. This is not your Sandy Weill "let me tell you how wonderful I am" variety of autobiography. Handy reveals only a few necessary details of his life. Instead of a chronology of his accomplishments, he offers a series of short chapters, each encapsulating the lessons he learned at the major stops along his life's journey. Each chapter is a profound rumination on experience, imparting wisdom gleaned from a thoroughly and honestly examined life, which appears to have been a life well led, indeed.
Drawing on his experiences as an executive at Shell; a founder of the London Business School; a BBC commentator; and a son, husband, and father, Handy draws useful lessons for business managers. He makes compelling connections between the commonplace, on the one hand, and the great questions challenging corporate leaders, on the other. For instance, he uses a debate about whether it was better for his family to rent or own a home to illuminate how to determine the proper form of corporate ownership. (He concludes that the best society is characterized by extensive employee ownership.)