One of many unknowns as the economy plunged into the Great Recession was whether corporate leaders would put their money where their mouths were regarding research and development. For years, managers have maintained that R&D spending is a competitive necessity — not a discretionary activity that could be cut to prop up earnings during hard times. Skeptics, on the other hand, suspected that companies would cut their R&D budgets at the first sign of red ink. This year's Global Innovation 1000 survey provides the first comprehensive empirical answer to the question: The world's biggest innovation spenders indeed walked the walk in 2008. R&D spending rose 5.7 percent in 2008, a slower rate of growth than the prior year's 10 percent increase, but in line with the group's 6.5 percent increase in worldwide sales. (See Exhibit 1.) And that increase in spending looks even more impressive given that operating income for the group fell 8.6 percent in 2008, and net income plummeted 34 percent.
More than two-thirds of the companies included in this year's Global Inno­vation 1000 maintained or increased R&D spending in 2008, and even though a third of the companies reported a financial loss for the year, we found no correlation between financial losses and reductions in R&D spending. Furthermore, our analysis revealed that innovation investment is increasingly viewed as essential to corporate strategy: More than 90 percent of executives we surveyed said innovation is critical as they prepare for the upturn, and a majority have maintained or expanded their portfolios and are pursuing new products to improve growth and margins. (See Exhibit 2.)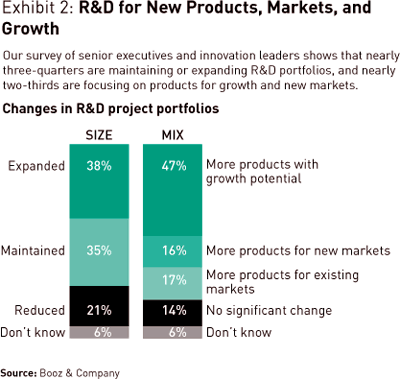 "Innovation is what drives our competitive position in all three of our markets — automotive, professional, and consumer — and therefore we can't back off," says Robert Lardon, corporate vice president for strategy and investor relations at Harman International Indus­tries Inc. Adalio Sanchez, general manager of IBM's System X server business, echoes that point of view: "I would argue that the recession is a catalyst for in­creased innovation."
These anecdotal observations confirm the data in this year's Global Innovation 1000, the fifth of our annual analyses of corporate spending on innovation and its connection to corporate performance. As in previous years, we identified the 1,000 public corporations worldwide that spent the most on researching and developing products and services for their marketplace. In addition, this year we conducted a special survey of nearly 300 senior managers and R&D leaders from 230 companies, which collectively spent more than US$230 billion on R&D in 2008, asking them detailed questions about their companies' response to the recession, and followed up with in-depth interviews with a number of top R&D executives.
Not all companies, of course, maintained or boosted R&D spending. More than a quarter of the Global In­novation 1000 cut their innovation budgets in 2008. And many companies were cautious: The top 20 innovation spenders increased re­search and development by only 3.2 percent, compared with 10.7 percent for these companies in the previous year. Further­more, the early evidence indicates that as companies entered 2009, spending on innovation slowed further. Again, however, that slowdown came in the face of even steeper declines in sales and income: Among the 522 companies reporting results for the first quarter of 2009, R&D spending decreased by 7.4 percent — which is still less than half the rate of their 18.5 percent decline in sales. Also noteworthy is that as the biggest R&D spenders have evaluated their investment strategies in the downturn, they have continued to invest in R&D at a higher rate than they have in capital expenditures. (See Exhibit 3.)
We believe there are three primary reasons companies are so reluctant to cut innovation spending when times are extremely tough.