1. Innovation has become a core component of overall corporate strategy. Given the fierce nature of business competition in recent years, a reduction in innovation efforts would be akin to unilateral disarmament in wartime.
2. Companies in most sectors are typically committed to product development cycles that extend for many years — well beyond the length of an average recession. If they are suppliers, they have often already contracted to help develop their customers' next new model; if they sell to consumers, missing an innovation cycle can mean being put out of the game entirely.
3. Many companies see the recession as an op­portunity to build their advantage over their competitors — especially weaker ones that may have to skimp on R&D for financial reasons. If the stronger companies can maintain the pace of innovation, the thinking goes, they may be able to gain market share quickly once the upturn gets under way in earnest.
At the same time, even companies that are maintaining or increasing R&D spending are responding to the effects of the recession. Every one of the top executives we interviewed said their companies are working hard to spend smarter — to get more bang for their R&D buck. We see three general trends that have either originated with the recession or accelerated during its course.
As a rule, companies are performing less pure and applied research. Instead, they are concentrating their R&D budgets on product development and engineering. This has been a trend for several years — indeed, 44 percent of survey respondents said they spend less than 20 percent of their R&D budget on basic research and advanced development — but it became even more pronounced during the recession. Managers hope to bring new products to market to take advantage of the upcoming recovery. Nearly 40 percent of respondents said their companies are shifting re­sources from basic research in order to prioritize new product launches.
The downturn has encouraged many companies — 40 percent, in our survey — to speed up their efforts to make the innovation process more efficient.
In response to the downturn, companies have become more risk averse; nearly half of survey respondents say that their companies are now more conservative than before. Companies are changing the criteria they use when giving new products the green light, tightening their relationships with customers and consumers, and watching their competitors, and the marketplace, more carefully.
Although the downturn's effects on global innovation efforts have thus been mixed, many companies clearly expect that by standing fast, they can gain a significant competitive edge over their more cautious rivals, both now and in the coming recovery.
Profiling the 2008 Global Innovation 1000
Even during the recession, the companies in this year's Global Innovation 1000 study increased their R&D spending in 2008 by 5.7 percent, to US$532 billion. This is significantly less than 2007's 10 percent increase over the prior year, but it is close to the 7.1 percent five-year compound annual growth rate for the Global Innovation 1000. R&D spending rose in 2008 despite the fact that almost a third of the companies in our study reported net losses for the year, and overall sales were up just 6.5 percent, considerably less than the prior year's 10 percent increase. R&D in­tensity in 2008 — the percentage of sales devoted to R&D — remained the same as in 2007 for these companies, at 3.6 percent. We estimate that this year's total spend of the Global Innovation 1000 companies represents 81 percent of global corporate R&D spending of approximately $660 billion, and a little more than 50 percent of total worldwide R&D spending, including that of governments, of $1.05 trillion. (See Exhibit 4.)
The Toyota Motor Corporation was the #1 spender on R&D for the third straight year, with a budget of just under $9 billion. The company maintained its rank despite its first-ever loss, more than $4.3 billion in 2008. Toyota's R&D spending was 5.7 percent lower, however, than it was in 2007. The #1000 company on our list was the Laird Group PLC, a London-based maker of electronics equipment, which spent $58 million on R&D. The top 20 companies in­creased R&D spending just 3.2 percent in 2008, compared to 10.7 percent in the prior year — no doubt because net income among the 20 fell from $115 billion in 2007 to just $75 billion in 2008, a startling 35 percent drop. (Even subtracting the General Motors Cor­poration's 2008 loss of more than $30 billion, net income for the group fell 9 percent.) Still, the top 20 spenders accounted for 26 percent of spending by the entire Global Inno­vation 1000. Three companies fell out of the top 20: Matsushita was ac­quired by Pana­sonic; Merck and Sony were replaced by Siemens and Cisco Systems, both of which boosted R&D spending in 2008 by more than 10 percent. (See Exhibit 5.)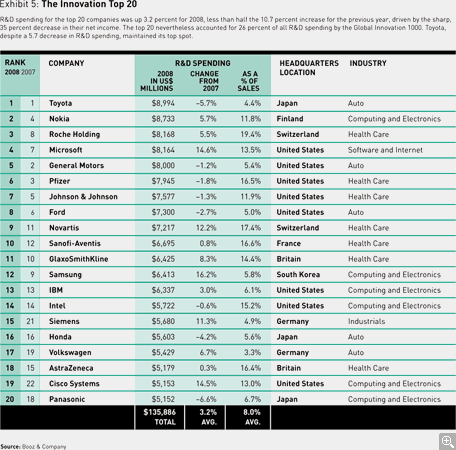 The computing and electronics industry retained its top spot in R&D spending among the industry sectors, spending $149 billion, accounting for 28 percent of the total spend. As in previous years, health care and auto came in second and third, spending 23 percent and 16 percent, respectively. Notwithstanding the massive decline in sales that the auto industry has faced since the spring of 2008, R&D spending in the industry increased, but only by 0.6 percent. Aerospace and defense was the only industry to see R&D spending fall, by 2.3 percent for the companies on this year's list. Changes in R&D intensity, however, varied: Five industries — auto, computing and electronics, consumer, industrials, and health care — increased their R&D intensity, while telecom, software and Internet, aerospace and defense, and chemicals and energy decreased theirs. A 1.4 percent in­crease in intensity, to 12 percent, allowed health care to take over the top spot in R&D intensity this year, and chemicals and energy de­creased its intensity by 10.4 percent, to 0.9 percent, the lowest of all the industries. (See Exhibit 6.)

Companies headquartered in the three major regions — North Amer­ica, Europe, and Japan — continued to account for 94 percent of the total R&D spending of the Global In­novation 1000, and every region, in­cluding China and India and the rest of the world, increased its spending. However, the rates of regional spending growth were slower. Japan increased its spending by just 0.5 percent, Europe by 6.3 percent, and North America by 6.5 percent; the global five-year compound annual growth rate was 7.2 percent. (See Exhibit 7.) Overall, the recession has had a noticeable, but relatively mild, effect on R&D spending thus far. Given the weak growth in both overall sales and net income, it's no surprise that companies are spending somewhat more cautiously on innovation. But if that means the downturn is forcing companies to spend those innovation dollars more effectively, that's all for the better.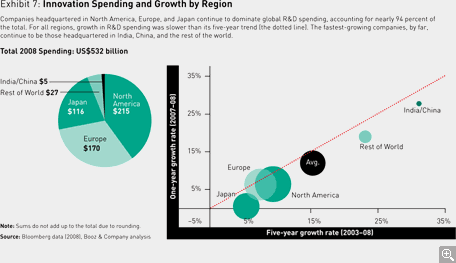 — B.J. and K.D.