As of October 2009, the Amazon.com category for business strategy featured more than 74,000 books. Confronted with this mass of material, the despairing reader of management literature who just wants the essence of what it takes to compete successfully might well ask how much of the accumulation is really necessary. In fact, most readers of strategy books would probably agree that these tomes would nearly all work better as articles of, say, 3,000 words.
Strategy itself is a distillation; it's a tight, internally coherent statement of what a company is and wants to be. It may take weeks of data gathering to get the plot points for charting a new corporate direction, and days of managerial deliberation to boil it down to a set of actions, but the statement itself ought to be no longer than a few sentences. An employee woken by flashlight at 2 a.m. and quizzed on the subject should be able to spell it out in a minute or two. If that's the ideal form, why should anyone require 400 pages to explain what a strategy is or how to create one?
THE STRATEGY+BUSINESS COLLECTION: THE EXECUTIVE GUIDE TO STRATEGY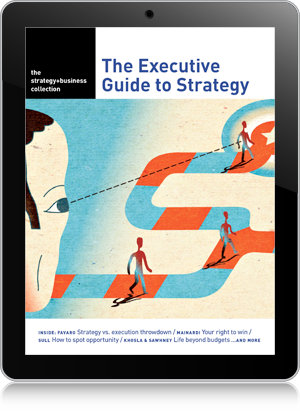 This article is featured in the strategy+business compendium "The Executive Guide to Strategy," designed exclusively for smartphones and tablets. The collection features our best thinking on creating and implementing the right strategy for your organization—with insights from top leaders including Capable Strategist author Ken Favaro, HBS Professor Cynthia Montgomery, strategy expert Ram Charan, and Kellogg School's Mohanbir Sawhney.
To download, select your device:
In that spirit, what follows is a review of the best writing on strategy: not books, but seven of the best chapters from books related to the topic. None will tell you all you need to know to make great strategic decisions; that's impossible to summarize, for reasons that a couple of the chapters will explain. But taken together, the seven cover the major themes running through the modern conversation about corporate strategy, a conversation that got started only as recently as the 1960s. The first three chapters (by Alfred D. Chandler Jr., Kenneth Andrews, and Michael E. Porter) and perhaps the last (by Henry Mintzberg) might be considered canonical; any serious history of the discipline would probably include them. All seven serve up insights that every student of strategy, whether practitioner or academic, should keep in mind. Amid all the seriousness are even a few witty surprises.
Structure and Self-definition
Alfred D. Chandler Jr.'s Strategy and Structure: Chapters in the History of the American Industrial Enterprise, originally published by MIT Press in 1962, wasn't the first book to use the term strategy in connection with business, but it was the first to grapple with the concept in a way that informed much subsequent discussion. The book was a work of history, essentially about how four giant companies — DuPont; General Motors; Standard Oil of New Jersey; and Sears, Roebuck and Company — changed their organizational structures to meet the challenges of the early 20th century. In his introduction, effectively the book's first chapter, Chandler set out the key concepts that would emerge from his narrative.
The definition of strategy he provides will likely strike today's readers as massively ho-hum: "the determination of the basic long-term goals and objectives of an enterprise, and the adoption of courses of action and the allocation of resources necessary for carrying out these goals." You had to be there, in the torpid corporate mind-set of the 1950s and early 1960s, to appreciate what a departure Chandler's idea represented. Most companies felt themselves largely at the mercy of market forces, with little of the knowledge they would need to truly determine their own future. They might make a few plans, but they didn't have any framework for plotting the course of their growth using an integrated understanding of costs, customers, and competition.