When Alfred M. (Al) Gray Jr. became commandant (the highest-ranking officer) of the U.S. Marine Corps in 1987, most knowledgeable observers believed that the Corps's fabled "warrior spirit" culture was already damaged beyond repair. During the Korean and Vietnam Wars, the Corps had grown from its historic level of 75,000 regulars to more than 200,000, and its values and discipline had eroded. It would have been easy for Gray to blame the damaged organizational culture for the problems he inherited, and to launch a formal, full-scale change initiative. But instead, he began to praise and seek out elements of the old Corps culture, such as its ethic of mutual respect. For example, he regularly slipped into the mess halls without insignia, so he would be served the same meals as the privates. To this day, Al Gray is the only Marine Corps commandant portrayed in battle fatigues in his formal portrait in the Pentagon. He is one of the most respected leaders in the Marines' 250-year history.
The strategy+business Collection: Don't Blame Your Culture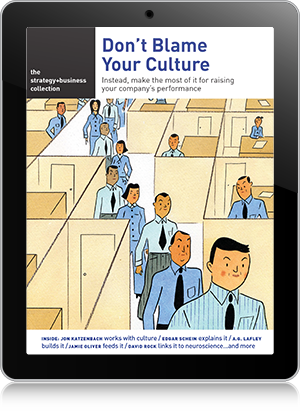 This article is featured in the strategy+business app "Don't Blame Your Culture," available for smartphone and tablet devices. The app pulls together s+b's best writing on organizational culture and change, featuring Jon Katzenbach, TV chef Jamie Oliver, former P&G CEO A.G. Lafley, and more, explaining why companies resist wholesale change, and how to make the most of the culture you have.
To download, select your device:
Leaders like Gray understand the value of an organization's culture. This can be defined as the set of deeply embedded, self-reinforcing behaviors, beliefs, and mind-sets that determine "how we do things around here." People within an organizational culture share a tacit understanding of the way the world works, their place in it, the informal and formal dimensions of their workplace, and the value of their actions. Though it seems intangible, the culture has a substantial influence on everyday actions and on performance.
Organizational cultures don't change very quickly. Therefore, if you are seeking change in your company or institution, you are most likely to succeed using your existing culture to help you change the behaviors that matter most. Bit by bit, as these new behaviors prove their value through business results, the culture you have can evolve into the culture you need.
Blame and Its Alternatives
When a new leader's strategy puts the culture of a company at risk, the culture will trump the strategy, almost every time. There are good reasons for this. Every company's identity — the body of capabilities and practices that distinguish it and make it effective — is grounded in the way people think and behave. Deeply embedded cultural influences tend to persist; they change far more slowly than marketplace factors, and cause significant morale problems when not addressed effectively. When your strategy and culture clash visibly, more likely than not, the culture is trying to tell you something about your own leadership philosophy.
But many leaders overlook this message. They blame the company's culture for the resistance they encounter. In the most extreme cases, they assume an explicit mandate for wholesale cultural change. This leads them to remove key leaders and old practices, restructure operations, set in place new rewards and promotions, and announce other across-the-board programmatic changes. This approach is costly, disruptive, and risky. Moreover, it takes years to accomplish. Working in a culture that is under attack reduces employees' energy and de-motivates them. It may require a major marketplace or economic disruption to get people to buy in. Clearly, this is not a game for the faint of heart. Worst of all, it is rarely successful; few major corporate transformations, especially those involving a wholesale change in the culture, achieve their intended performance goals.