Becoming global is never exclusively the result of a grand design, though certainly it cannot be the result of incremental, ad hoc, opportunistic and random moves. The wisest approach would be one of "directed opportunism" - an approach that maintains opportunism and flexibility within a broad direction set by a systematic framework.
One of the best examples of the power of an explicit and systematic process to analyze the complex set of factors involved in becoming a global player is Wal-Mart Stores Inc., the largest retailer in the world. The company, which opened its first international store (in Mexico City) in 1991, now operates in all 50 states, Puerto Rico, Canada, China, Mexico, Brazil, Germany, Britain, Argentina and South Korea. Of a work force of more than 950,000, it had more than 130,000 employees working in 729 facilities outside the United States by July 1999.
Until its recent move into supermarkets, the retailer operated three types of outlets: 1) Wal-Mart stores, which offer clothing, linens, small appliances, hardware, sporting goods and similar items; 2) Sam's Clubs, which offer bulk items to customers who purchase warehouse memberships, and 3) Supercenters, which combine the inventories of a discount store with a full-line supermarket.
Wal-Mart has pursued globalization aggressively since its first move across the border in 1991. (See Exhibits I to III.) In 1993 just 1 percent of all Wal-Mart stores were located outside the United States. By 1998, that had grown to 18 percent. Between 1995 and 1998, 5 percent of the company's growth in sales and 4 percent of its growth in profits came from international operations.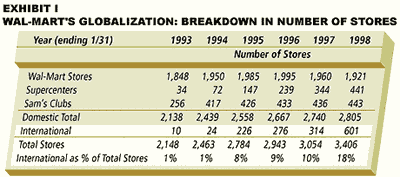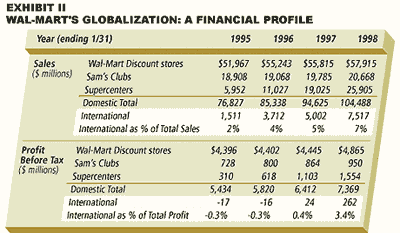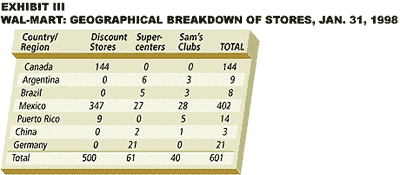 Globalization Imperatives
Did Wal-Mart need to go global? Clearly, it had developed a successful business model for competing in the United States. Why not just prosper as an American retailer? The answer is that the company needed to grow in order to survive, and the international arena was the only one in which significant growth was possible.
Why was growth so important? First, the company needed to show increases in both sales and profits to satisfy capital market expectations. Second, it needed to satisfy the expectations of its own employees. One of the key factors in Wal-Mart's success was its dedicated and committed work force. Thanks to Wal-Mart's stock purchase plan, the wealth of these employees was directly tied to the market value of the company's stock, creating a direct link between growth and its effect on stock price and company morale.
Given the necessity for growth, Wal-Mart could not afford to confine its operations to the United States for three reasons. First, it had already saturated most of the domestic markets. Second, the United States accounts for just over 4 percent of the world's population. By limiting itself to this market, Wal-Mart was missing out on 96 percent of the world's potential customers.1 Finally, emerging markets, with their lower levels of disposable income, offered huge platforms for growth in discount retailing. Other companies had already capitalized on such growth thanks to the rapid expansion of information technology, increasing cultural homogenization and lowered trade barriers.2 Wal-Mart had no choice but to pursue globalization aggressively to meet this competition.
In undertaking global expansion, Wal-Mart had the capacity to leverage two key resources originally developed in the United States. It could exploit its tremendous buying power with such giant domestic suppliers as Proctor & Gamble, Hallmark, Kellogg, Nestlé, Coke, Pfizer, Revlon and 3M to procure goods cost-effectively for its non-United States stores. It could also utilize domestically developed knowledge bases and competencies in such areas as efficient store management, the effective use of technology vis-à-vis suppliers, merchandising skills, logistics and I.T. deployment to benefit its foreign outlets. An unforeseen but positive byproduct of this process was that Wal-Mart was also able to leverage sales-generating or cost-reduction ideas learned in its international outlets to benefit its 3,000 United States stores.