Industrial Light and Magic, the special effects unit of George Lucas's vast film-making empire, has created a set of business practices that is both powerful and nearly invisible. While artistry and technical wizardry made the company, it is the deft management of relationships -- vendor to client, employer to employee -- that has sustained its growth for two decades.
Born as Mr. Lucas's dream team of artists and craftspeople for the production of Star Wars, Industrial Light and Magic slowly evolved into a freestanding business. And just as Star Wars defined the modern "effects'' movie, I.L.M., as it is commonly known in the film industry, defined the branded special-effects house. There had always been small production shops for special effects, but they were mostly short-lived labors of love that struggled to break even. I.L.M. made effects a business, and made itself a strategic supplier to film industry clients.
Though burnished with the glamour of Hollywood, special effects is a tough fee-for-service business in which profit margins rarely exceed a razor-thin 5 percent. Capital costs are high and getting higher as computers play an ever-greater role, and skilled artists command high salaries. Industrial Light and Magic claims roughly a 50 percent share of the $300 million market for feature film effects, and a 20 percent share of the $150 million market for effects in television commercials.
As a privately held company, I.L.M. does not publish its financial results, but management says it is consistently profitable, and growing; the head count has gone from 300 in 1994 to 750 today. Industrial Light and Magic has maintained this growth despite a flood of new competition, both from small startup companies, like Digital Domain and Boss Film Studios, and from film studios themselves, including Sony and Disney, which have created or acquired in-house effects teams. In this environment, the company fights to retain customers and talent alike.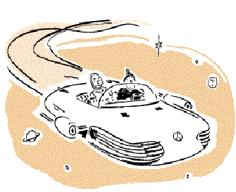 Although I.L.M.'s business seems rarefied, the management principles that have allowed it to thrive are transferable to many industries. Film producers say they choose to work with Industrial Light and Magic because of its devotion to total customer satisfaction, namely to delivering a product that always meets or exceeds their expectations, on time and on budget. Employees praise an egalitarian corporate culture, where new hires receive the same deference as five-time Academy Award winners, and where opportunity is boundless. In many ways, the company remains a dream team.
Industrial Light and Magic, together with Skywalker Sound, its sound-effects sister, was spun out of Lucasfilm Ltd. in 1993 to form Lucas Digital Ltd., but the unit had already functioned as a separate business for many years. Mr. Lucas owns Lucasfilm, Lucas Digital and a third unit, LucasArts Entertainment, devoted to videogames and other interactive media, and is chairman of all three. But when he visits I.L.M. it is as a customer, not as a manager.
I.L.M. is physically separated from Lucasfilm as well. Most of Mr. Lucas's enterprises occupy Skywalker Ranch, a fantasyland of reproduction farmhouses and barns on a remote spread in northern California's Marin County; I.L.M. inhabits a strip of one-story buildings in a rundown section of San Rafael, about 20 miles north of San Francisco. There is no sign, and even the front door still bears the name of the building's former occupant, and an ''employees only" admonition. The anonymity is a calculated part of the company's mystique, but the separation from Lucasfilm, both physical and corporate, is meant to reflect I.L.M.'s charter as a customer-driven enterprise.
"Our isolation up here is melting," Mr. Lucas said in an interview. "As a result, we feel the future will be a lot more competitive.'' His three companies "were just not fit together in a way that allowed for more growth," he said. "All three companies have a certain synergy, but it seems to work better if the person in charge is in control of their own destiny."