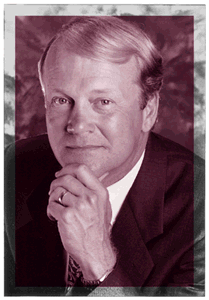 Over the past four years, Cisco Systems Inc. has been on a mission: to dominate its data networking market much as I.B.M. did with mainframes and as Intel and Microsoft have done with personal computers. In order to fulfill this ambitious goal, Cisco, based in San Jose, Calif., has gone on a major buying spree, acquiring 14 companies since late 1993.
Thus far, Cisco has spent more than $5 billion and added more than 2,000 employees to its own rapidly expanding work force, all without slowing its phenomenal revenue growth rate of more than 80 percent a year since the company went public in 1990. The pace even picked up in 1996, as sales and net income both more than doubled, to $4.1 billion and $913 million, respectively. And according to John T. Chambers, Cisco's 47-year-old president and chief executive, the company's appetite has hardly been satisfied. Up to a dozen more acquisitions will be made in 1997, he says.
Though a darling of Wall Street, where its stock has been a stellar performer since its I.P.O., Cisco has kept a low profile throughout most of its existence. With a current market valuation of $42 billion, however, Cisco can no longer hide its mammoth presence in the high-tech marketplace. In fact, its ability to successfully acquire and integrate a continuing string of companies, including StrataCom, the largest acquisition in Silicon Valley history, is becoming part of the industry's new folklore. (The 3Com Corporation, a major Cisco competitor, recently agreed to acquire the U.S. Robotics Corporation, a modem maker, in a stock swap valued at $7.3 billion. If the deal is consummated, it would eclipse the Cisco/StrataCom acquisition.)
In most acquisitions, the buyer tends to get mired in the endless labored details of integrating the new company into the existing culture, resulting in slowed growth and downsized work forces and expectations. No wonder the stock price of an acquiring company generally drops on the day a takeover is announced. Not so with Cisco, which has found a formula for friendly acquisition and accelerated integration that has allowed it to gobble up small, fast-growing companies, meld the work forces and product lines and sprint forward seemingly without missing a beat.
In so doing, Cisco has become a prototype for the networked corporation: a decentralized set of business units that leverage the company's marketing, sales, manufacturing and distribution strengths. With this model, Cisco is reinventing itself, becoming a one-stop shopping option in a market that has long been far too technologically complex to allow any one vendor to grab such a ubiquitous role.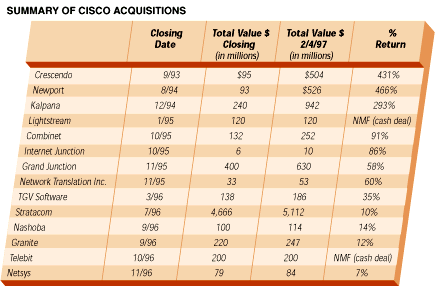 Founded in 1984 by Leonard Bosack and Sandy Lerner, a husband-and-wife team of computer scientists at Stanford University, Cisco quietly competed in the rapidly emerging market for hardware and software to connect networks of corporate computers. As recently as 10 years ago, sales came to just $1.5 million.
Until 1993, the company's fortunes were tied almost exclusively to a hardware device called a router, which forwards packets of data from one computer to another.
But four years ago, Cisco's management team realized that the market was changing rapidly, with the advent of faster and more intelligent "internetworking" devices like switches and hubs, which link local area and wide area networks. In addition, the coming of age of the Internet and the growing popularity of intranets, the corporate in-house version, put more demands on Cisco to provide a complex variety of networking solutions.
To dominate such a market, Cisco knew that it could not hope to internally develop the needed array of technology. With product cycles dropping below 18 months and long-term bets off, Mr. Chambers set out to buy what he couldn't develop quickly enough.