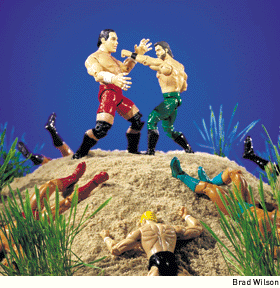 Consider what Toysrus.com CEO John Barbour is up against: people like 10-year-old Luke Armour. In February, the fourth-grader, who lives in Montclair, N.J., was sent via e-mail a $50 birthday gift certificate to Toysrus.com by his grandparents. Luke loves computers — he spends hours on the Internet each day — so his grandparents figured this would be an exciting shopping experience for the boy, one that would keep him engaged and provide a few lessons about how to spend money independently.
Unfortunately, that isn't quite the way it turned out. With his gift certificate number facing him on his computer screen, Luke went online and searched for toys for 10-year-olds and above. Toysrus.com offered two short screens: A few Nintendo games ("I'm not allowed to play Nintendo," Luke says), a couple of football jerseys ("I wasn't interested"), and a bike or two ("I already have one," he says). Finally, an hour after beginning the shopping spree, he quit. His grandparents took back the gift certificate and gave him money instead.
"I didn't get it; I've been to Toys 'R' Us stores and they have such a big selection, so I couldn't figure out why they had almost nothing on the Internet," Luke says. "I expected a lot more."
This is an all-too-familiar story for Mr. Barbour. After an initially promising Christmas selling season, Toyrsrus.com ended up placating unhappy customers with $100 apiece when it failed to deliver products by December 25. And after nearly a year as CEO of Toysrus.com (the independently managed Internet subsidiary of Toys "R" Us Inc.), Mr. Barbour is still wrestling to create a plan that would give the bricks-and-mortar giant prominence on the Web.
So far, Toysrus.com is clearly behind in the online race against rivals like eToys Inc., currently the No. 1 Internet toy seller. Hampered by strategic stumbles and mixed messages from the parent company, Toysrus.com has been embarrassed and stunted by management turmoil and has struggled to find its legs on the Internet. It hasn't helped that Toys "R" Us, the parent, has had a difficult decade, during which its stock price barely budged and its earnings were erratic — so much so that Toys "R" Us actually slipped into the red in fiscal 1999.
Comparing the Toysrus.com site with the eToys.com site, it's easy to see why the upstart is the more popular one. At the time of a visit to the site in late February, Toysrus.com's opening page, which trumpeted the operation as "a new site," was a hard-edged series of blocks and strident colors with confusing stacked search fields and two prominent "Coming Soon" links that went nowhere. There was a grim warning that the selection of items online varied from those featured in stores; supplies of online items were limited and inventory changed often; and rain checks were available at retail locations only. If the unfriendly atmosphere didn't scare away customers, that set of caveats likely did.
By contrast, eToys is soft and inviting — all muted blues and whites with graphics of children playing contentedly and dozens of easy-to-use links to categories and toy recommendations. Numerous details focus on customer needs — such as creative hints for getting the most out of specific toys; reviews by adults and children; handy alerts when a toy needs batteries (as a result, some days batteries are eToys' top-selling item); and a gift-wrapping service that packs items from an order separately with appropriate "To/From" tags attached.
Additionally, eToys is remarkably well stocked. For example, it has more than 200 different train sets — 10 times as many as Toysrus.com has — including 15 from high-end Brio Corp. of Germantown, Wis., which refuses to sell its painstakingly crafted products at Toys "R" Us or Toysrus.com to avoid having them shown next to less expensive and lower-quality trains.