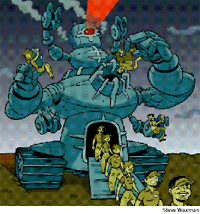 Take a highly fragmented industry, like used-car sales, funeral homes, office supplies, air-conditioning services, veterinary care, or laboratory diagnostics. Buy up dozens, maybe hundreds, of owner-operated businesses. Create an entity that can reap economies of scale, build regional or national brands, leverage best practices across all aspects of marketing and operations, and hire more potent managers than the small businesses could previously afford.
It's called a "strategic rollup." The formula has seemed like an attractive business proposition—and Wall Street has embraced it enthusiastically. But for each successful rollup like Sysco Corporation, the food-distribution giant, or Quest Diagnostics Inc., which operates medical-testing laboratories, dozens of failures litter the landscape.
In fact, close to half of all rollups that we studied have lost 50 percent or more of their market capitalization since June 1998. Particularly striking is that many rollups were rewarded handsomely by the stock market during their high-growth, early stages of development—until they reached roughly $500 million in revenues. At this level, investors began to probe deeper, ask tougher questions, and demand better performance. Consider the dismal results from six leading rollups of the last few years—Waste Management Inc., AutoNation Inc., the funeral-home companies Service Corporation International and Stewart Enterprises Inc., and U.S. Office Products Company and its rival Corporate Express Inc. After significantly outperforming the S&P 500 for two strong years (1995 to 1996), these six rollups have come crashing down. (See Exhibit 1, below.)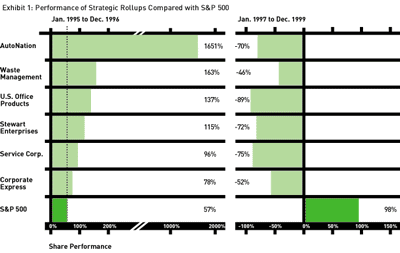 Are strategic rollups a flawed vehicle? Wall Street certainly doesn't think so; after all, investors have poured more than $30 billion of capital into rollups or funds intent on finding industries to consolidate. Nor do we. Our analysis clearly indicates that the problem is not the concept but the execution.
The starting point is recognizing that a rollup is much more than arbitraging assets. Success rides on understanding how to create, capture, and retain value—each step of the way. While many have gone wrong, rollups can be done right. And even stumbling rollups can regain their footing on a prosperous path.
Wheel of Fortune
Rollups, as we use the term, emerged in the mid-1990s as one form of the many waves of consolidation washing over the globe. Rollups differ from conventional merger-and-acquisition activity in three distinct ways. First, rollups occur in highly fragmented industries, usually service- or distribution-related, but occasionally in manufacturing. As a result, consolidation involves not a handful of mergers and acquisitions, but dozens, or sometimes hundreds.
Second, the companies acquired are generally owner-operators rather than large, publicly owned companies. This makes integration much more complicated, because people accustomed to seat-of-the-pants decision-making and complete control are suddenly required to play on a team, with corporate instead of personal goals in the forefront. Additional complications arise because the many small businesses use diverse accounting systems and technology.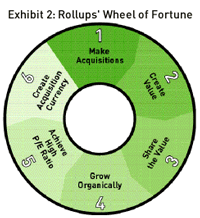 The third way in which rollups differ from conventional merger-and-acquisition activity is that their strategy is not to gain incremental advantage but to reinvent an industry, creating an entity with a fundamentally superior value proposition.
The bet underlying a rollup is that it can reduce costs and drive growth to create enormous value. In fact, kindling organic growth is particularly important as the pace of acquisitions begins its inevitable decline. Rollups take on considerable costs: premiums paid for acquisitions, debt, high-powered management teams. To make good on that investment, the entity must grow. When all goes well, we find a cycle of value creation that takes on a life of its own. (See Exhibit 2, right)
As acquisitions are made, value is created from a series of concurrent post-merger integrations, each focused on forging a bigger and more competitive entity from many fragmented individual companies. The value created is shared with the customers (through more attractive pricing or higher quality of service) and employees (through better benefits or incentives). This results in accelerated organic growth driven by a superior value proposition. The market rewards this kind of growth with a higher P/E ratio, which creates the currency for more acquisitions.