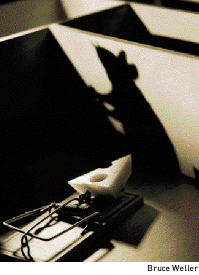 Even as the Net giddily redefined global business in 1999, the year's top-selling business text turned out to be a book with nary a mention of the new new medium. America's managers were busy gobbling up the wisdom of a work whose title posed the excruciatingly simple question: Who Moved My Cheese?
The protagonists of Cheese bear such names as Hem, Haw, Sniff, and Scurry — no prizes for guessing their respective roles in the maze. Cheese-flavored change management adages include: "The quicker you let go of old cheese, the sooner you can enjoy the new cheese." And who can forget, "Smell the cheese often so you know when it's getting old."
No, management hasn't gone crackers. Quite the contrary: The success of Cheese speaks volumes about the kind of mousetraps it takes to capture the hearts and minds of today's managers. It defines the pop managerial zeitgeist as surely as Jonathan Livingston Seagull did for the broader pop culture of its day, such that only the most condescending of business elitists can ignore why Cheese has done so well.
Celebrated in speeches by the likes of former Hewlett-Packard Company CEO Lewis E. Platt, and purchased in truckloads by people-centric companies like the Southwest Airlines Company, Cheese is a pleasant parable of such unrelenting simplicity and accessibility that it makes Stuart Little seem as rich and textured as Madam Bovary. Summarizing the plot or the characters would unfairly undermine its intent — which is both good-hearted and utterly pragmatic. It is one of those rare works — the word "book" betrays it — that merits attention more for what it stands for than for what it actually says. In essence, Cheese is about coping with the challenge of change.
Cheese attacks change in a pragmatic style. For good reason: It's written by Dr. Spencer Johnson, the co-author of the unbelievably best-selling business book of the early '80s, The One Minute Manager. Manager certainly struck a resonant chord in its day because it appealed to the sense of urgency managers were feeling about the need to be far more effective far faster. Authors Kenneth H. Blanchard and Dr. Johnson, an MD, created a clear, simple, and focused package ruthlessly engineered around the theme of rapid effectiveness. Manager was not a mere metaphor; it was a methodology. A lot of managers swore the book had a bigger impact on their day-to-day interactions than their MBAs did.
What does it say about the quality of managerial life and executive development when a mini-book like Manager convinces so many people to honestly believe that one-minute metrics make them better managers and better people? It says a lot. It says even more when one of the authors of that work comes back more than a decade later to craft a text that shocks new awareness into yet another generation of managers. There's something important going on.
A confession: Reading Cheese was a thoroughly uncomfortable experience (even if it only lasted for about 40 minutes). While the book clearly possesses a sort of Hallmark/Kahlil Gibran appeal, it struck me as cloyingly transparent. And as an author of a moderately successful business book, Serious Play, published by a university press, and a columnist for Fortune magazine, I found it almost impossible to believe that a "book" like Cheese — $19.95, for God's sake, for 94 large-type pages — could win the sort of bottom-up and CEO-down support that it did. Was I so much the snob that I literally — and I mean "literally" literally — couldn't get what made Cheese so desirable?
In truth, I didn't understood the power of Cheese until I had an unexpected argument with a client. The details of the argument are irrelevant. My realization emerged as I listened to the client's distress: It's not that the company didn't understand the issues involved; it's that it didn't understand the issues in a form that could be credibly communicated to the rest of the organization. We were, in fact, in complete agreement. However, we were not in agreement on the appropriate level of simplicity and accessibility to the organization at large.