Thomas Sowell, the controversial American economist and scholar at the Hoover Institute at Stanford University, wrote some years ago, in "Knowledge and Decisions," that "ideas are everywhere, but knowledge is rare."

This is certainly the case when it comes to business and it is especially true when it comes to business books. Although thousands of idea-laden books make their way into print each year—and even onto the world's best-seller lists—only a handful are insightful enough to change the way people think and conduct their affairs.

Though wandering through the world's bookstores in search of wondrous new insights may certainly be one of life's pleasures, Booz-Allen & Hamilton and the Financial Times wanted to make the pursuit of knowledge more than just a random stroll. To call attention to the best ideas in business, Booz-Allen and the Financial Times jointly devised the Global Business Book Awards to honor the best business books published each year.

The aim of the 1995 awards was to find and recognize the top two books. To do that, Booz-Allen and the Financial Times organized regional panels of readers—business scholars, researchers and journalists—for the Americas, Europe and Asia-Pacific. Each of these panels read dozens of new books—147 were nominated for the 1995 awards—that were submitted by trade and academic publishers in their regions. The readers' mandate was simply this: to identify the top books in each region, by ranking them in a number of different ways but with the common goal of finding works that contain real insights.

The readers finished their assignments by delivering a "short list" of books for each region. Interestingly, most of the books that made it to this point focused on the so-called softer business issues. For example, 18 percent dealt with organizational dynamics, 10 percent focused on leadership, 9 percent explored the realm of knowledge, 6 percent were about teams. Most of these finalists—85 percent—were pragmatic and offered practical advice. Few of the books offered new theories about business.

When the regional short lists were in place, a prestigious group of judges took over. The judges—all of whom were business leaders or academicians—debated the merits of the finalists and selected regional winners in two categories: the Best Book About Business and the Best Management Book.

The winners in each region were then put forward for the Financial Times/ Booz-Allen & Hamilton Global Business Book Awards.

Edwin L. Artzt, chairman of the executive committee of the board, Procter & Gamble (United States), served as chairman of the global judges panel. The 14 other judges were Euan Baird, chairman, Schlumberger Ltd. (United States); John Baker, chairman, National Power (Britain); Antonio Borges, dean, INSEAD (France); Kazuo Chiba, former Japanese Ambassador to Britain (Japan); Brian Dickie, president, Worldwide Commercial Business, Booz-Allen & Hamilton (United States); Dr. Raffaele Esposito, president and chief executive, FIAR S.p.A. (Italy); Robert Hamada, dean, Graduate School of Business, University of Chicago (United States); Philippe Kahn, chairman, Starfish Software (United States); Richard Lambert, editor, Financial Times (Britain); Francis Lorentz, professor, Paris-Dauphine University (France); Rafael Páez, former chief executive, Grupo ALFA S.A. (Mexico); Helmut Ricke, former chairman, Deutsche Telekom A.G. (Germany); Gerhard Schulmeyer, president and chief executive, Siemens Nixdorf (Germany), and Ivan Seidenberg, chairman and chief executive, Nynex (United States).

After considerable deliberation, the judges chose the following books as winners of the 1995 Global Business Book Awards: Intellectualizing Capability, by Noboru Konno and Ikujiro Nonaka, and The Deutsche Bank: 1870–1995, by Lothar Gall, Gerald D. Feldman, Harold James, Carl-Ludwig Holtfrerich and Hans E. Büschgen.

The awards were presented at a ceremony in London in April 1996.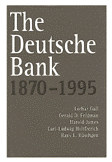 BEST BOOK ABOUT BUSINESS
The Deutsche Bank: 1870–1995
by Lothar Gall, Gerald D. Feldman, Harold James, Carl-Ludwig Holtfrerich and Hans E. Büschgen