Capturing the full potential from suppliers has always been a challenge. To pull it off, successful companies have devised ways to effectively integrate the right suppliers into their business processes. In so doing, they have created powerful supplier relationships that simultaneously encourage cooperation and competition.
The results of these best-practice relationships are demonstrable. In our most recent case work, we have found opportunities to reduce total cost by 15 to 30 percent by creating more effective supplier relationships. We have also found that these best-practice savings can be sustained. But how are such relationships achieved?
A previous article based on our case research -- "Balanced Purchasing," in Issue 2 of Strategy & Business -- argued that achieving the balance between cooperation and competition requires a new set of purchasing skills throughout the organization. This article, the second in a series based on our case research and practice findings, describes one of those key skills. This one, which plays out on the strategic level, is the ability to define clearly what we have termed a supplier's "scope boundaries."
A Simple Example
To maximize the performance of suppliers, a company must disaggregate the end product into sets of components and/or functional groupings. These sets can be produced by various suppliers. Optimally defining the lines of supply resulting from the disaggregation allows the company to examine and organize its suppliers in ways that create the most value. We call these lines "scope boundaries." The scope can be narrow or broad -- and can focus on value creation through product innovation or through closer integration in the manufacturing and delivery process.
Scope boundaries affect the amount and type of value creation available to the company and the supplier. Exhibit I provides a simple example of the way this works by demonstrating the possible evolution of a supplier of bolts.
EXHIBIT I
SUPPLIER EVOLUTION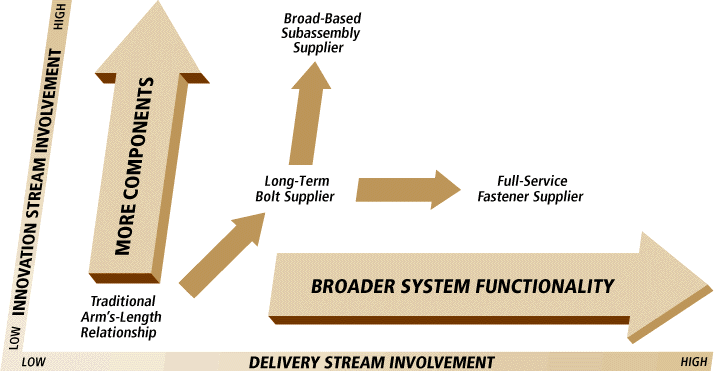 Source: Booz-Allen & Hamilton
In a traditional arm's-length relationship, a supplier has a very narrow scope. In this example, the bolt supplier does not understand the customer's needs beyond the design specifications, known as a make-to-print arrangement. Accordingly, the only opportunity for the supplier to create value is to reduce its internal manufacturing cost. As a result, opportunities are lost for suppliers and customers to cooperate in product innovation and in creating a tighter integration of processes to deliver products faster or at lower costs to consumers. Fortunately, our research indicates, few companies are content to keep their key suppliers in arm's-length relationships.
With longer-term supplier relationships, new methods of value creation can be opened up. For example, the supplier may integrate its processes with those of the customer as in just-in-time delivery and integrated quality assurance arrangements. Through these joint efforts, new cost reduction opportunities can be exploited in the shared value chain -- not just in the supplier's portion of it. Additionally, if there were a closer relationship, the bolt supplier could begin to challenge the specifications: "Why this tolerance? Why should the bolt be plated?" These questions, which ultimately lead to joint designs, are a vital initial step aimed at increasing the level of value creation.
Over time, the relationship with the supplier might produce a broader scope. For example, the supplier might be asked to evolve beyond bolts to cover a wide range of "fasteners" (such as Velcro or plastic clips), which have the same basic functionality. With this broader scope, the supplier can propose alternative product-technology choices that best meet the customer's application without the risk of losing the customer's business. In this broad relationship, the supplier is no longer motivated to suggest that a bolt is always the right solution. Value creation comes from providing innovative solutions to problems based upon a deep understanding of customer needs.