At home in a Cambridge, Mass., apartment over-looking the Charles River, Harvard Business School Professor Emeritus Alfred D. Chandler Jr., 83, is thinking about why some companies succeed, and others fail. The reason, he asserts, has to do with how companies learn and apply what they learn. Pressed for an example, Professor Chandler starts talking about the global consumer electronics industry in the 1980s. His body, which is slight and trim, leans forward passionately. His eyes light up. His speech, which is ordinarily an elliptical mumble (albeit with a deep, South Carolina–flavored timbre), suddenly resonates crisply and energetically.
The story he tells represents a turning point for the industry — the moment, around 1982, when Japan's Sony Corporation and the Dutch Koninklijke Philips Electronics NV were both flush with cash from their successful cointroduction of the compact disc. Sony's next step, the Digital Video Disc (DVD), also invented with Philips, was a modest advance in the technology. But, on its own, Philips took a much bolder, technologically seductive risk, investing billions in creating and marketing the compact disc interactive (CD-i), a new multimedia accessory for television. If the compact disc could transform audio recordings and computers, the Philips engineers reasoned, couldn't a similar device, with one global operating standard, finally satisfy TV watchers' hunger for digital photographs, video on demand, computer games, and on-screen encyclopedias?
THE STRATEGY+BUSINESS COLLECTION: THE EXECUTIVE GUIDE TO STRATEGY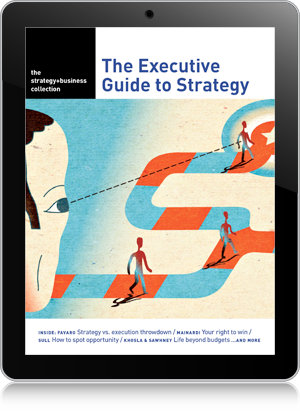 This article is featured in the strategy+business compendium "The Executive Guide to Strategy," designed exclusively for smartphones and tablets. The collection features our best thinking on creating and implementing the right strategy for your organization—with insights from top leaders including Capable Strategist author Ken Favaro, HBS Professor Cynthia Montgomery, strategy expert Ram Charan, and Kellogg School's Mohanbir Sawhney.
To download, select your device:
As Professor Chandler tells the tale, the enthusiasm of the engineers blinded them to the realities of the marketplace. Twenty years ago, television watchers were content to be passive. They didn't want the CD-i's multimedia interactivity. Philips ultimately lost more than $3 billion on its gamble. "By 1990," he says, "[Philips is] so broke that they can't afford to pay a billion dollars to ramp up to meet the demand for CDs or to manufacture DVDs at all. So they license out the manufacturing to firms like Matsushita and Toshiba."
This move effectively ceded control of CD and DVD manufacturing to Philips's Japanese rivals, who naturally — Professor Chandler might say inevitably — used that advantage to undercut Philips. Soon after, the electronics business that Philips had spent decades building dwindled to almost nothing.
"It's extraordinary," says America's most eminent business historian. "It's just a wonderful story."
The Philips CD-i episode is one of several dozen stories recounted in Inventing the Electronic Century: The Epic Story of the Consumer Electronics and Computer Industries. In its pages, this man who still writes on a pad of paper and has never learned to use a computer explains exactly how the cutting-edge technologies of our time have mesmerized corporate leaders, leading some companies to grasp key opportunities and others to miss them entirely.
Among academic business historians, Professor Chandler is regarded as the man who made the field a legitimate course of study at Harvard Business School (and elsewhere). "When he arrived in 1971," says his Harvard colleague and fellow business historian Richard Tedlow, "there were 13 people taking business history. Now there are 1,300." The famous Harvard Business School case studies existed before Professor Chandler arrived, but by all accounts, he helped influence such prominent Harvard strategists as Kenneth Andrews to train MBAs to look beyond immediate market and competitor data to consider the long-term trends.