In 1990, when he became the CEO of the General Motors Corporation, Robert Stempel was known as a quintessential "car guy." He took pride in having risen from junior engineer to head of General Motors' giant Buick–Oldsmobile–Cadillac Group and then to CEO. He seemed to care deeply about the people who worked for him and the machines they made; he knew enough about cars and customers to face down the bean counters, and enough about people and technology not to be dazzled by hype.
The strategy+business Collection: Don't Blame Your Culture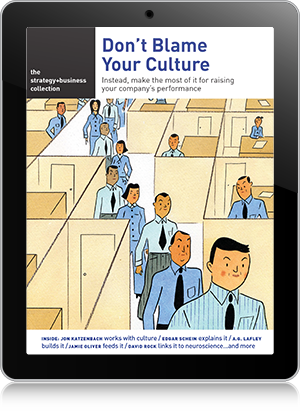 This article is featured in the strategy+business app "Don't Blame Your Culture," available for smartphone and tablet devices. The app pulls together s+b's best writing on organizational culture and change, featuring Jon Katzenbach, TV chef Jamie Oliver, former P&G CEO A.G. Lafley, and more, explaining why companies resist wholesale change, and how to make the most of the culture you have.
To download, select your device:
But after only two years, GM's board forced Mr. Stempel to resign. Judging from most accounts of those events (particularly Comeback, the incisive auto industry history by Wall Street Journal reporters Paul Ingrassia and Joseph P. White), Mr. Stempel lost his new job because he was culturally at sea — even though he had spent his career at GM, and had been an executive there for at least a decade. Instead of cutting unprofitable lines, consolidating boldly, and boosting cash flow, Mr. Stempel, as Messrs. Ingrassia and White put it, "was managing for the long term, moving step-by-step to close plants and develop new models." Worst of all, he "didn't see that his job was in immediate danger." When the axe fell, despite a year's worth of warnings from friends on the board, he was so surprised and hurt that he didn't attend his own retirement dinner.
The problem was not lack of qualification. Mr. Stempel was apparently a very capable man who could have been an example of why production people, and not their financiers, should be at the helm of companies. Instead, he became yet another in a long line of discredited "car guys" and their equivalents. When Kodak's new chief financial officer was asked why analysts should trust his company's promises, he replied, "Because this is the post-Stempel world."
In short, Mr. Stempel failed because he was culturally out of sync, not necessarily with GM as a whole, but with the innate demands of his new job. That, at least, is how MIT professor Edgar Schein, the "dean" of American experts in corporate culture, would explain it. Professor Schein suggests that there are at least three separate professions creating their own cultures within every large corporation. Professor Schein calls them the "operational," "executive," and "engineering" cultures. Each has its own attitudes about people, work, money, time, technology, and authority. The exact names and descriptions of these professional cultures, as we'll see, are open for debate, but the heart of the theory is the inherent conflict among them. Members of each culture consistently misunderstand each other, even when they earnestly desire to work together.
If the idea of multiple corporate cultures seems peculiar, perhaps it's because most people who study management can't stop thinking about corporations as monoliths. We should know better; we see the infighting among corporate subgroups constantly. Yet we speak casually of there being one GM or DuPont or Shell. We say "P&G is cautious" or "Microsoft is ruthless" as if these companies were sentient creatures, each one with its own single brain (at the center of which is the CEO). We conveniently forget the fact that no real-world corporation works that way.