A year had passed since our last strategy+business review of leadership books and CEO memoirs, so a trip to Borders was in order to see what was new in those categories. We discovered almost all the books in the management section had been published within the last calendar year (apparently, most business books have a short shelf life). However, there was a notable exception: Leadership for Dummies (John Wiley & Sons, 1999), by Marshall Loeb and Stephen Kindel, was well stocked and in the same prominent place on the shelf as a year ago … and was now in its second printing. Perhaps the parlous state of America's corporate governance explains why Dummies has found such traction. Nonetheless, hoping to find some advice by and for "smarties," we loaded five volumes with more-promising titles into our canvas tote bags. Admittedly, we may have been drawn to these particular books because all but one were penned by dynamic duos, and two of those were nicely balanced (in our biased view) between the worlds of practice and theory from which their authors hailed. Perhaps, we thought, this is a trend.
Still, we feared at the time that our process of selection might prove no better than a random grab. But upon finishing our reading, we were pleased to find the experience had been nothing like picking up books by five different economists; on the contrary, our authors draw consistent conclusions. They describe the tasks of leadership in much the same way, albeit from different professional, disciplinary, and values perspectives. Moreover, their arguments echo much of what we are hearing about the challenges of leadership from our clients, and what we are reading in the latest research literature. Hence, it might stand as some validation of the advice these authors offer in these five highly accessible leadership tomes that, while reading them, we often emitted positive sighs of recognition.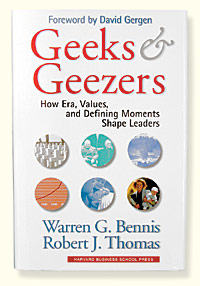 Two Generations
Geeks and Geezers: How Era, Values, and Defining Moments Shape Leaders (Harvard Business School Press, 2002), by noted leadership scholar Warren G. Bennis and consultant Robert J. Thomas, builds on the theory of leadership development Bennis put forth in his 1989 bestseller On Becoming a Leader (Addison-Wesley Publishing Co.). As refined here, that model is relatively simple: Leaders are formed by a combination of their individual personalities and the events of the era in which they spend their formative years, factors then united "in a crucible of experience." Individuals who are able to "organize the meaning" of their experiences effectively emerge from that crucible with four core leadership competencies: adaptive capacity, the ability to engage others, a distinctive "voice," and integrity.
Bennis's great conceptual contribution is that leaders are developed by way of the process he calls "reflection on experience." Although everyone has experiences that are potentially relevant for personal growth, the mark of successful leaders is their ability to draw meaningful lessons from both good and bad ones, and then apply those lessons to leadership tasks. Since the life experiences of Geezers (whose characters were formed during the Great Depression and World War II) differ greatly from the experiences of Geeks (children of the high-tech era and now-battered New Economy), Bennis and Thomas ask the obvious question: "Do the approaches to leadership of members of those two generations differ accordingly?"
Two salient differences emerge from their interviews of members of both generations: First, Geeks are far more concerned than Geezers with balancing work and nonwork activities; second, Geezers have "heroes" — leadership role models like Franklin Delano Roosevelt and Winston Churchill; Geeks tend to model themselves after their parents, friends, and co-workers. The latter is not surprising, considering what is reported elsewhere in the book: Geeks apparently don't read much. So how could they be expected to know anything beyond the world they experience personally?