Since the 1970s, traditional market leaders in industry after industry, saddled with complex, high-cost business models, have been under attack by companies with new, simpler ways to manage their operations and contain costs.
This scenario occurred in the steel industry when minimills took on traditional smelters; in automobile manufacturing when more standardized Japanese cars won out over customized U.S. vehicles; and in retailing when superstores overtook conventional grocery stores. In each instance, the established companies struggled, often in vain, to rationalize operations and still deliver products and services to satisfy customer desires, defend their market positions, and reestablish profitability.
The lesson is fundamental: As markets mature, incumbent companies that have developed sophisticated, but complex, business models face tremendous pressure to find less costly approaches that meet broad customer needs with minimal complexity in products and processes.
The trouble is, many companies — manufacturers and service providers alike — have increased the scope and variety of their products and services over the years by layering on new offerings to serve ever larger and more diverse customer bases. Although each individual business decision to enhance a product line or service can usually be justified on its own, the result often is a cost structure that is sustainable only if the principal competitors take a similar approach. More often than not, though, as incumbents expand the breadth and depth of their offerings, leveraging their sophisticated business infrastructure, they are undermined by smaller, nimbler competitors that supply a more focused product, usually to a specific set of customers, at a substantially lower cost. In these situations, the incumbent may know that the cost of complexity is dragging it down, but finds changing its business model easier said than done.
No companies illustrate this dilemma more vividly than the large U.S. and European hub-and-spoke airlines. Their business model — essentially designed to seamlessly take anyone from anywhere to everywhere — was a great innovation. But this model is no longer competitively sustainable in its current form. Tied to massive physical infrastructure, complex fleets of aircraft, legacy information systems, and large labor pools, the major carriers in both regions now face a double whammy: some of the worst economic conditions in the industry's history, and low-cost carriers that dictate prices in large and growing parts of the market.
U.S. carriers lost more than $10 billion in 2002, according to the Air Transport Association, up from $8 billion in the disastrous year of 2001. Worldwide, losses topped $50 billion. Bankruptcies litter the industry. Sabena, Swissair, US Airways, United Air Lines, and Hawaiian Airlines have all sought protection from their creditors. Others are likely to follow. The need for a new, less complex business model among hub-and-spoke carriers is growing stronger with each boom and bust cycle.
In this article, we examine the significant downside of business complexity and provide a formula that would allow the airlines to simplify their operations, cut expenses, and compete with their low-cost competitors. It's not incremental change, but a fundamental overhaul.
Complexity Costs
While the major carriers face a future of red ink, low-cost carriers such as Southwest Airlines, JetBlue Airways, and Ryanair are prospering by exploiting a huge cost-of-operations advantage. Low-cost carriers spend seven to eight cents per seat mile to complete a 500- to 600-mile flight, according to our analysis. That's less than half of what it costs the typical hub-and-spoke carrier to fly a flight of the same duration and distance. (See Exhibit 1.)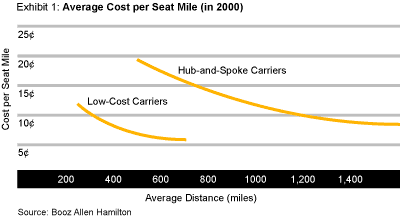 It is easy to see how costs mount quickly in the hub-and-spoke airlines' intricate system of operations. Their business model is predicated on offering consumers a larger number of destinations, significant flexibility (ranging from last-minute seat reassignments and upgrades to complete itinerary and routing changes), and "frills" (e.g., specialty meals, private lounges, and in-flight entertainment). It is a model burdened by the built-in cost penalties of synchronized hub operations, with long aircraft turnaround times and slack built into schedules to increase connectivity by ensuring there is time for passengers and baggage to make connections. It's a system that implicitly accepts a slower business pace to accommodate continual change. In addition, the hub-and-spoke business model relies on highly sophisticated information systems and infrastructure to optimize its complex operations. By contrast, low-cost carriers have designed a focused, simple, highly productive business model around nonstop air travel to and from medium- to high-density markets at a significantly lower price point.