Here's a test for Corporate America — and Corporate Europe and the Corporate Pacific Rim, for that matter.
In the wake of the accounting, leadership, and governance scandals at such large companies as Enron, Tyco, and WorldCom, the provision in the Sarbanes-Oxley Act of 2002 that CEOs and CFOs personally certify the accuracy of their financial statements will restore investor confidence. True or false?
All the problems with corporate governance boil down to one thing: Boards of directors aren't independent enough. True or false?
Holding chief executive officers to stricter performance standards will cause corporate performance to improve. True or false?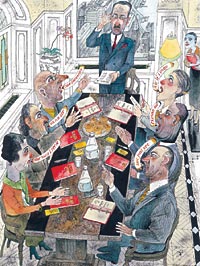 Conventional wisdom increasingly is answering "true" to these questions. Companies are falling over themselves to institute visible and verifiable changes in board composition and structure: requiring that a certain proportion of directors be outsiders; appointing a lead director; requiring "outsider only" membership on board audit and nominating committees; and so on. And boards have CEOs on the run — a Booz Allen Hamilton study found that turnover of CEOs at the world's 2,500 largest publicly traded companies increased by 53 percent between 1995 and 2001.
Are these changes in the structure of business necessary? Probably. Are they sufficient? Certainly not.
Current attempts to embed irreproachable business behavior in the composition and structure of corporate boards are, we believe, doomed to fail. The Enron Corporation board met even the most rigorous independence criteria and represented a wealth of financial acumen; its audit committee head was an accounting professor and a former dean at Stanford's business school. Tyco International Ltd. was a case study in governance best practices. CEO Dennis Kozlowski was the only insider on its board; directors ran for election annually; and a lead outside director ran board meetings, set the agenda, ran executive sessions without Mr. Kozlowski, and conducted annual evaluations of individual board members.
The fixes many firms are rushing to institutionalize may even be naively counterproductive. The drive to more tightly regulate the membership and functions of corporate boards is already encouraging companies to view governance as a legal challenge rather than a way to improve performance. Moreover, evidence exists that such externally imposed governance requirements may compromise long-term performance. (See "Does Good Governance Translate into Superior Returns?")
Does Good Governance Translate into Superior Returns?
No fewer than 50 studies have been devoted to the question of whether board composition — specifically, measures of board independence — correlates strongly with financial performance.
Empirical research findings to date, however, have been inconsistent and conflicting. Studies of "outsider" ratios and firm performance have produced correlations ranging from positive .33 to negative .15, whereas other studies have found that the effect of the board's composition on corporate financial performance is essentially value-neutral.
Last year, Sanjai Bhagat of the University of Colorado and Bernard S. Black of Stanford University Law School published the first large-sample, long-horizon study of whether the degree of board independence (represented by the fraction of independent directors minus the fraction of inside directors on a company's board) correlates with various measures of long-term performance among large American firms. Their conclusion was, essentially, "no." Firms with more independent boards are not more profitable; indeed, there were hints in the data that they perform worse than other firms.
Corporate governance experts Ira M. Millstein and Paul W. MacAvoy came up with more encouraging news in their study of independent boards. Comparing the returns after the cost of capital for companies rated A+ in corporate governance by the California Public Employees' Retirement System with the returns of F-ranked companies, they determined that the performance gap exceeded 25 percent.
Both of these studies were among the dozens analyzed in 2000 by the Conference Board, which concluded there was no quantitative evidence to either prove or disprove a link between corporate governance and performance (at least as indicated by externally observable measures). Similar studies conducted in the U.K., Southeast Asia, and elsewhere have generated similarly conflicting findings.
In sum, the quantitative research done to date is inconclusive at best, suggesting that a board's performance should be measured by the merits: the quality of the dialogue, the insights of individual directors, the overall tone set by the CEO.
— P.F.K., C.B., and B.B.