Wall Street brokerage firms have been enjoying a robust business climate in recent years. Braced by a seemingly inexhaustible bull market and heavy trading volumes, full-service firms -- the traditional Wall Street powerhouses -- are, by and large, consistently reporting increased profits. Assets in mutual funds have soared as well, as more baby boomers have become concerned about the financial needs of retirement.
But these heady market conditions, while seemingly a recipe for continued success, mask looming problems for the full-service firms. That is because they are losing a significant portion of their business to discount brokers, mutual fund companies and other specialized providers, a group that has already captured 25 percent of the retail market with its generally lower prices and more enterprising use of technology. In particular, new entrants have been quick to capitalize on the growth of direct channels, e.g., discounters now moving to the Internet.
All of which has left the full-service firms with a bottom line that is bigger but is also under siege. To fight back, the firms need to play to their strengths and shore up their weaknesses. On the strength side, they need to aggressively market their product breadth, personalized service and "one-stop shopping" convenience. As for their weaknesses, they need to focus on costs and operating efficiency, and pass on as much of the savings as possible to their customers. And they need to proactively manage their key client relationships through superior service and attractive customer loyalty programs.
A New Breed of Competitor
The competitive environment has changed dramatically for full-service brokerage firms. Until the mid-1980's, these firms dominated the landscape. Their product offerings were primarily stocks and bonds, and their customers were usually affluent. Securities regulations mandated a level playing field that gave firms little beyond their image and reputation to differentiate themselves. As a result, customer turnover was typically low.
But price deregulation and technological advances dramatically changed that paradigm. A new breed of specialized firms and discount brokers appeared on the scene, offering services at vastly lower costs.
Exhibit I
Unbundling the Offerings: The Old Guard vs. the New Wave Source: Booz-Allen & Hamilton
These firms unbundled the offerings of the full-service providers and concentrated on specific sources of value to investors. (See Exhibit I.) They also developed direct channels to circumvent the physical footprint advantage of the established players at a time when consumer adoption of electronic and other forms of direct access was increasingly replacing the need for face-to-face dealings. Paced by technological advances that made "self-service" a reality, as well as by a rising level of investor sophistication, the trend toward specialization gained momentum.
At the same time, the ranks of individual investors swelled, sparking tremendous growth in mutual funds and employer-sponsored 401(k) plans. Recognizing that growth, the specialized firms focused more and more on specific sources of value to address targeted customer needs, fostering the perception that their services are "cheaper" (although, given fair comparison, that is not always the case).
These specialized providers have enjoyed significant growth at the expense of the full-service firms. In the 10 years since 1985, the discounters' share of retail equity trading commissions nearly tripled. Clearly, investors perceive significant value from the discounters' price and convenience advantages. (See Exhibit II.)
Exhibit II
A Growing Competition for Retail Commissions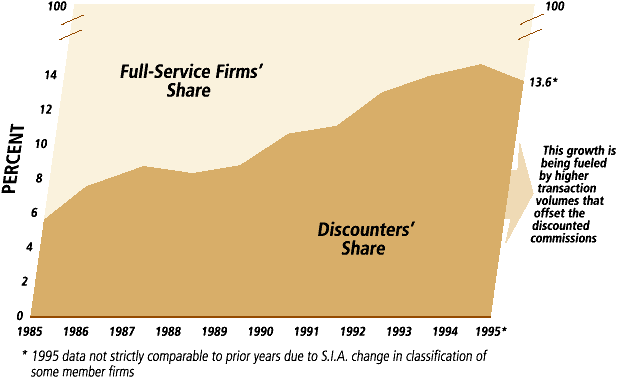 Sources: S.I.A. Factbook and Booz-Allen & Hamilton analysis
Unbundling to Appeal to Specific Investor Types
By unbundling brokerage services, specialized providers have been able to appeal to specific investor groups, particularly the self-directed investors. In using specialized providers, these customers can reduce their overall cost of investing by accessing only the services they need, primarily transaction execution. To obtain investment selection advice, this group pays directly for financial periodicals and research material. Such advice is usually available at no additional charge as part of a full-service firm's package of services. But the price differential for transaction execution makes the specialized provider a much more cost-efficient choice for the self-directed investor than a traditional full-service broker -- by as much as 8 to 10 times. (See Exhibit III.)