Businesses and markets once remained the same for decades. Now change is rampant. To succeed, companies must understand the logical foundations of market and business evolutions.
Not long ago, a large telecommunications company wanted to know more about the buying habits of its long-distance business customers. The company hired a consultant to divide the customers into discrete market segments. In due course, the consultant produced an impressive study analyzing the customers' needs on 15 fronts and identifying almost 20 "distinct" segments.
Barely six months later, however, the long-distance market had shifted, causing customer needs to change and leaving all those neat categories behind. The company had to bring the consultant back for an update, and keep bringing him back every time the market changed -- which it was doing with increasing frequency as the pace of technological innovation accelerated. What's more, for this segmentation approach to be used effectively as a marketing tool, every prospective new customer had to be exhaustively surveyed about where it fit in terms of those 15 different needs. And that was a task that the company's overburdened sales force undertook only reluctantly, and sometimes not at all.
Frustrated, the company hired another consultant, who developed a different segmentation system -- this one focusing on customer behavior, rather than needs. Relying on a simple four-box matrix, the new approach seemed to promise the company's managers the means to quickly decide which customers were good targets and which were not. (See Exhibit I.)
Exhibit I
Typical Static Segmentation: Long-Distance Corporate Customers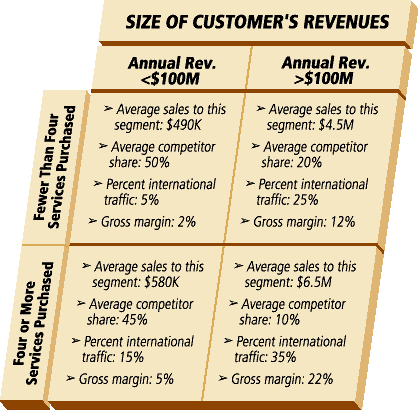 Source: Booz-Allen & Hamilton
Alas, the company discarded this scheme nearly as fast as the first one. The new segmentation proved no better at helping managers keep up with a constantly shifting landscape, since it offered little insight into why some accounts were vulnerable, how customers were changing or what was necessary to beat back the competition and hold on to market share. Thus, the company continues to struggle to better define its customers and defend against competitive inroads.
The Right Kind of Segmentation
This experience is not unique. Many companies have adopted segmentation schemes, often developed by the best and the brightest, only to soon discard them. Why? Perhaps because almost all of these analyses are static. They provide a snapshot of the market -- of customers' preferences at the moment. Yet what companies really need is a moving picture, an understanding of what those preferences are likely to be tomorrow, and why.
Market segments evolve over time. They may grow, decline or disappear. They change for a number of reasons: new demographic trends, technological advances, increasing competition, regulatory impositions and economic cycles. And, of course, the individual consumers and companies that make up the segments are themselves changing, leading to shifts in their needs, purchasing patterns and loyalties.(1)
Thus, rather than analyzing customer segments that existed in the past, or at one point in time, marketers, planners, sales managers and senior management should think in terms of "evolution." Segmentation ought to incorporate changes in the market, especially when the pace of change is rapid. Further, a good segmentation should help explain and predict the reaction of both companies and customers to changes in the marketplace environment. Understanding these patterns is likely to become an even more important tool for successful managers in the future, since companies will prosper only if they change along with their markets. (See Exhibit II.)
Exhibit II
Comparison of Segment Understanding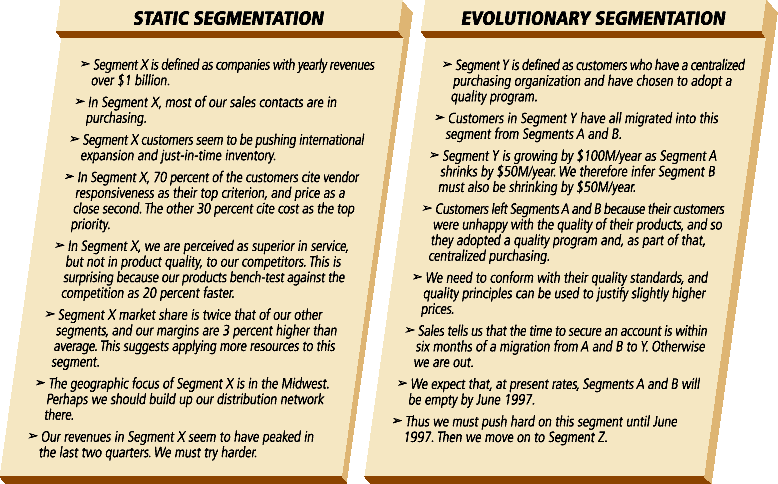 Source: Booz-Allen & Hamilton
Through 700 interviews at more than 200 companies in industries as diverse as computing, petrochemicals, retailing, telecommunications and transportation, Booz-Allen & Hamilton confirmed that evolutionary segmentation can be a powerful means of improved performance. This article reports three major findings, all of which suggest a focus on tomorrow's customer segments, rather than yesterday's: