Executive Summary
Senior executives in every industry and every region lament their organization's inability to execute. As firms grow in scale and scope in a global environment of increasingly rigorous stakeholder demands, the cost of complexity necessarily rises and the capacity to align and adapt invariably diminishes. Anyone who has worked in an organization of any size, whether in the public or private sector, has seen firsthand the individual counterproductive behaviors that can take root and impede a company's strategy and ultimate success.

The first step in resolving these dysfunctions is to understand how the inherent traits of an organization influence and/or determine each individual's behavior and affect his or her performance. We like to use the familiar metaphor of DNA to codify the idiosyncratic characteristics of a company (see The Four Bases of Organizational DNA). Just as the double helix of DNA is held together by bonds between base pairs of four nucleotides, we describe the DNA of a living organization as having four building blocks that, combined in myriad ways, define an organization's distinct traits and behaviors. These building blocks are decision rights, information, motivators, and structure (see Exhibit ES1).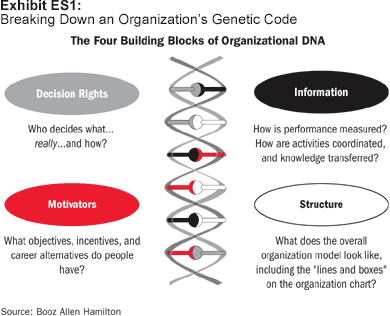 Booz Allen Hamilton has developed a short, online self-assessment tool called the Org DNA Profiler™ that assesses an organization's relative strength in each of these four areas based on individual employees' responses to 19 questions. Survey responses are fed through proprietary software to generate one of seven prototypical organizational profiles (see Exhibit ES2). In December 2003, more than 4,000 profiles were completed online at www.orgdna.com. Key findings are summarized below.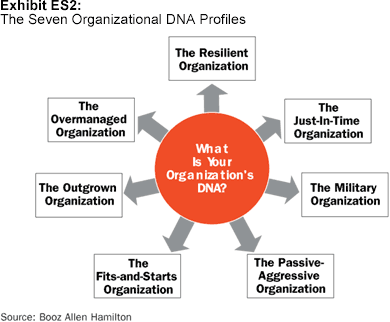 1. Most Organizations Are Unhealthy. More than 60% of respondents found their organizations exhibit "unhealthy" profiles of one kind or another (i.e., Passive-Aggressive, Fits-and-Starts, Outgrown, Overmanaged).
2. Organizational DNA Changes as Companies Grow. As a rule, small companies report more Resilient and Just-in-Time behaviors. As they grow, they may centralize and demonstrate more Military traits. Once their annual revenues cross the $1-billion threshold, operations necessarily decentralize, but often badly, as revealed in the higher incidence of Fits-and-Starts and Passive-Aggressive profiles. Once past the $10-billion threshold, companies have obviously demonstrated some key success traits but are not necessarily free from dysfunction.
3. Altitude Determines Attitude. Survey results indicate sharp differences between senior management responses and those of lower-level groups, suggesting a disconnect between senior executives' perceptions of the organizations they believe they've established, and the organizations they are actually running.
4. Nonexecutives Feel Micromanaged. Although senior managers likely view their self-professed involvement in operating decisions as good, junior managers overwhelmingly report feeling micromanaged.
5. Decision Rights Are Unclear. More than half of those completing profiles indicated they believed that the accountability for decisions and actions was unclear in their organizations.
6. What We Have Here Is a Failure to Execute. Less than half of all respondents agree that "important strategic and operational decisions are quickly translated into action" in their organization. Poor information flows seem mostly to blame.
"Execution" has become the new watchword in board rooms around the globe, as CEOs and directors watch sound strategies fail at the hands of organizations that cannot or will not effectively implement them. The ability to execute is not something you can recruit or mandate. It is inherent—embedded in the management processes, relationships, measurements, and beliefs that constitute an organization's DNA. Like the DNA of living organisms, the DNA of living organizations consists of four building blocks, which combine and recombine to express distinct identities, or personalities. These organizational building blocks—decision rights, information, motivators, and structure—largely determine how a firm looks and behaves, internally and externally. Unlike humans and other organisms, however, organizations have the ability to change their DNA by adjusting and adapting these building blocks.