Best Business Books 2012: Marketing
Brand New
(originally published by Booz & Company)
---
Jim Stengel
Grow: How Ideals Power Growth and Profit at the World's Greatest Companies
(Crown Business, 2011)
Laurence Vincent
Brand Real: How Smart Companies Live Their Brand Promise and Inspire Fierce Customer Loyalty
(Amacom, 2012)
Doc Searls
The Intention Economy: When Customers Take Charge
(Harvard Business Review Press, 2012)
---
There is always a lot of noise around marketing. And marketers listen to it religiously in their search for the new, new thing and the edge it can confer, especially in highly competitive sectors such as consumer packaged goods. But sometimes the noise can drown out core messages about the essence and essentials of a successful product, service, or brand, and obscure our view of its future direction. This year's best business books on marketing — all from veteran practitioners — rise above the twittering crowd by delivering the kinds of insights that make for compelling listening.
An Ideal Brand
Jim Stengel, whose name is as widely recognized among contemporary marketers as the names of the Procter & Gamble brands he helped build — Pampers and Jif, among others — is a retired executive who is not content to rest on his laurels. His first book, Grow: How Ideals Power Growth and Profit at the World's Greatest Companies, which took root from ideas seeded during his career, is an ambitious, groundbreaking effort to define the future of brand management, supported by a study of tens of thousands of brands put forth by companies around the world.
In Grow, Stengel examines the extraordinary power and performance that can be harnessed when a brand's purpose is defined by a distinctive, fitting "ideal." A brand ideal is focused on improving the lives of customers, and is managed by a company that passionately identifies with the beliefs and values underlying it. Stengel claims that defining and activating a distinctive brand ideal is the most powerful lever a business leader can use to achieve competitive advantage.
Although business scholars may challenge his claim in degree, they are unlikely to challenge it in concept. After all, Peter Drucker pegged marketing as one of only two results-producing functions in a business (the other was innovation). And the importance of aligning organizational design, culture, and capabilities to the company's vision and strategy is well known, as is the potential of a company pursuing an inspirational ideal to unleash exceptional power and commitment in its employees. Until Grow, however, little had been done to put a value on a brand ideal, and limited practical guidance had been offered on how to identify one and make it central to the company as a driver of focus, growth, and competitive advantage. Stengel addresses these questions directly.
The assumption that brands can make a sizable contribution to shareholder value is foundational to Stengel's thesis. In fact, brand and business success are synonymous to him because "a brand is what a business is all about in the hearts and minds of the people most important to its future." To support this thesis, the author cites Millward Brown Optimor's body of work, which calculated that brand value now accounts for more than 30 percent of the aggregate market capitalization of companies in the S&P 500.
Further, Stengel (in partnership with Millward Brown) designed a new research study of brands, the "Stengel Study of Business Growth," which analyzed 10 years of data from more than 50,000 brands. It found that the 50 companies whose brands were most strongly associated with improving people's lives — the "Stengel 50" — generated a return on investment that outpaced the S&P 500 by nearly 400 percent.
Stengel attributes this huge performance differential to ideals — "nothing unites and motivates people's actions as strongly as ideals," he writes. He says a brand ideal defines what a brand is and is not, and illuminates its strengths and weaknesses, as well as current and potential points of parity and differentiation. (One of the best lines in the book is a quote from Discovery Channel general manager Clark Bunting, "Great brands say no.") A brand ideal creates enduring connections, uniting and inspiring everyone a business touches. It enables a leader to articulate and focus on what is most important in a company. It attracts people who are most suited, energized, and committed to delivering what matters most to customers and transforms an enterprise into a "customer-understanding machine." And it stimulates innovation, in a never-ending quest to better serve the ideal.
How do you develop a brand ideal? Stengel says that first you must discover how your brand is linked to "one of five fields of fundamental human values" (joy, connection to others and the world, the desire to explore new horizons, pride, and social responsibility), and then activate those links in a distinctive, authentic, and purposeful manner. This process of discovery results in an ideal statement, which the author articulates for each of the Stengel 50 brands. Some examples: "Amazon.com exists to enable freedom of choice, exploration, and discovery." "Dove exists to celebrate every woman's unique beauty." "Google exists to immediately satisfy every curiosity." "Louis Vuitton exists to luxuriously accentuate the journey of life."
The final question — how do you make the brand ideal the center of the company? — is addressed throughout the book. Stengel breaks his answer into four broadly stated "must-do" tasks: build a culture around the ideal, communicate the ideal to engage employees and customers, deliver a "near-ideal" customer experience, and evaluate your progress and people against the ideal. These four tasks are highlighted with in-depth case studies of various brands, including Discovery Communications, Pampers, and Zappos, as well as with a plethora of shorter examples.
Grow is the year's best business book on marketing because it leaves us with a better understanding of a brand as the embodiment of a company and its people. It inspires by helping us imagine the great things that could happen if we united our efforts in service of a distinctive higher-order brand ideal aimed at bettering the lives of our customers.
Brand Aid
If you think of a brand ideal as a promise, Brand Real: How Smart Companies Live Their Brand Promise and Inspire Fierce Customer Loyalty is a terrific companion volume to Grow. It is a pragmatic and comprehensive guide on how to deliver on a brand promise, which is, writes author Laurence Vincent, head of the Brand Studio at United Talent Agency, "a covenant with consumers" in the form of a commitment to deliver value. Communicating and fulfilling this commitment has always been difficult; today it is more of a challenge than ever — in part, Vincent says, because the millennial generation is populated with "highly skeptical, media savvy, and very vocal" consumers who place a particularly high premium on a brand's authenticity and credibility.
Brand Real tells us in no uncertain terms how to make a brand promise stand up at every consumer touch point. To achieve this, the book covers the wide territory of brand marketing; focuses in on the key issues, such as brand architecture and communications strategy; and provides practical advice for addressing those issues.
"Real brands" are those that fulfill, and often exceed, customer expectations. These brands, according to Vincent, make promises they intend to keep and make tough strategic decisions about what to offer and not offer customers, and they grow without straying from their sense of purpose. For example, he writes, "Southwest Airlines has prospered by not doing some things that other airlines do: no assigned seats, no first-class cabin, no meal service. These omissions…are fundamental service decisions that drive the business model and they contain memorable attributes that make the brand salient because they support the brand's promise to deliver great value through low fares and friendly service."
Vincent thinks that companies should measure a brand's success by the expectations it creates and the results that it delivers to users. This requires a reality check that mandates answering three simple, but often ignored, questions about a brand: What is it, why does it matter, and how does it create value?
Brand Real is filled with useful lessons for marketers. For example, Vincent clarifies the difference between a brand's promise and its positioning. A brand's positioning is the perceptual territory it claims relative to its competitors. A brand promise incorporates its positioning, but also articulates the brand's reason for existence and defines the benefits of the brand experience in terms of three dimensions: how people think, what they do, and how they feel.
Vincent makes a strong argument for brand simplicity, which is based on his belief that brands exist because consumers hate uncertainty and therefore rely on cues as to what they should expect from products and organizations when making purchase decisions. Thus, brand marketers should not place too much emphasis on symbols, such as a name or logo. Instead, they should seek to clarify the customer's expectations of the brand experience, and focus their own attention on delivering against those expectations, again and again.
The object is to win what Vincent calls the "memory game," by creating links in the consumer's mind between what the brand is and why it matters. He argues that these links among cues, expectations, and experience are fundamentally important, because we all favor brands (such as Apple) that consistently meet or exceed our expectations, and we punish the ones that don't.
Brand Real mirrors Grow in its strong advocacy of staff engagement as an essential element in brand success. "From the executive suite to the front lines to the investment base," declares Vincent, "the best way to sustain a real brand is to align the people behind it with the brand promise." That is, branding begins inside a company, by ensuring that the values and the behaviors of the people working there are a direct reflection of the brand. If they aren't, Vincent says, it's because of one or more of five factors: ignorance, doubt, incompetence, poverty (a lack of resources), and a lack of incentive. And if the employees do not reflect the brand, the brand experience will be flawed and the brand promise will be placed at risk.
At a time when many companies are thinking of branding as an exercise in creating a compelling logo, a sticky website, an entertaining advertisement, or an aesthetically pleasing package, Vincent reminds us that branding is first and foremost a strategic act. It requires "purposeful conduct" in the quest to influence how people behave, both customers and employees. And like any other business strategy, branding should serve as a guide for "mission-critical decisions in capital investment, human resources, research, product development, and operations management." That's why Brand Real is as relevant to the CEO as it is to the CMO.
A Buyer's Market
If Doc Searls is right, the discipline of branding — and indeed, marketing itself — could be on the brink of a fundamental shift. Soon, claims the former advertising executive, whose insights into the effects of digitization on markets became the platform for his current career as a highly regarded technology writer, consumers will be managing business-to-consumer (B2C) companies in much the same way as those companies are managing their vendors.
This change will create a new kind of market — the "Intention Economy," which is vastly different from the current "Attention Economy," in which marketers vie to be heard. Searls's The Intention Economy: When Customers Take Charge envisions a market in which customers are kings: Their orders are followed, their every need is responded to, and they grant sellers an audience only when they want to. In this economy, digitally empowered shoppers will build personal firewalls that block out unwanted marketing solicitations, and instead they will notify their preferred providers about what they want to buy, when they want to buy it, and how much they want to pay, by issuing the personal equivalent of an RFP.
Although digitization has empowered consumers with information and competitively priced goods and services, until now it has likely had a greater influence on the supply side of markets, spawning innovation in manufacturing, supply chain management, marketing, sales, and other business functions. For marketing's "hunters," digitization has proven to be a high-powered scope, enabling them to track every move of their consumer prey. It's no wonder consumers feel more hounded than ever — constantly interrupted by the cacoph-ony of barking from marketers vying for their attention, and disquieted by the not-so-far-fetched suspicion that silent trackers are always sniffing at their heels.
Searls argues that the time is coming when customers will be "emancipated from the systems built to control them." The instrument of their emancipation will be vendor relationship management (VRM), the consumer equivalent of customer relationship management (CRM). In other words, individuals will adopt the principles, practices, and guidelines that today's companies follow when interacting with them.
What VRM (yawn) lacks in appeal as a brand name, it makes up for in ambition. Searls envisions it as a digital tool kit that will create value for consumers by allowing them to manage relationships and service requirements with companies on their own terms; by enabling them to collect their own data and control access to it; by giving them the means to express demand in the open market; and by facilitating negotiated outcomes with sellers that, in the best-case scenario, will support value-creating collaborations.
Searls's dramatic prognostications are supported by ProjectVRM, which he runs and which was launched in September 2006 from the Berkman Center for Internet & Society at Harvard University. The project's purpose, he writes, is to "encourage development in an area that has been largely neglected: empowering individuals — especially customers — natively, outside any corporate or organizational framework." Dozens of companies, mostly startups, have already subscribed to the VRM vision, and they are in the early stages of developing the tools and capabilities that consumers will need to take control of markets. Personal.com, for instance, provides individual users (called "owners") with a private, fully owned, and fully controlled data vault.
Searls's vision raises provocative questions for companies and for marketers. Imagine, for example, an elderly woman who wants a computer that is simple enough for her to operate, or a man who wants a wool sweater in a particular style, or a driver seeking a part for an automobile. Instead of searching for suppliers, what if they put their specs online and companies vied to meet their needs? How would your company respond if the clearinghouse for supply meeting demand devolved to the level of the individual customer and was orchestrated by that customer? Could your company survive in a marketplace in which gaining the attention of targeted consumers has given way to paying attention to consumers targeting you?
It's hard to answer these questions. If the Intention Economy does come to fruition, it will likely render obsolete many of today's marketing practices, which were designed to capture the attention of consumers. (Searls reminds us that the word branding was borrowed from the cattle industry, and its intention was to burn a product into the customer's mind — not an image that will appeal to tomorrow's customer–kings.)
That day is not here yet, however, so read Grow and Brand Real to learn how to build a better connection with customers in today's markets, and then read The Intention Economy to ponder how you might prepare for the future.

Author profile:
Shaun Holliday is a senior executive advisor in Booz & Company's consumer and retail practice. He spent much of his career leading businesses and functions in premier global consumer companies, including Pepsi Bottling Group and Guinness Ireland Group.
Recommended stories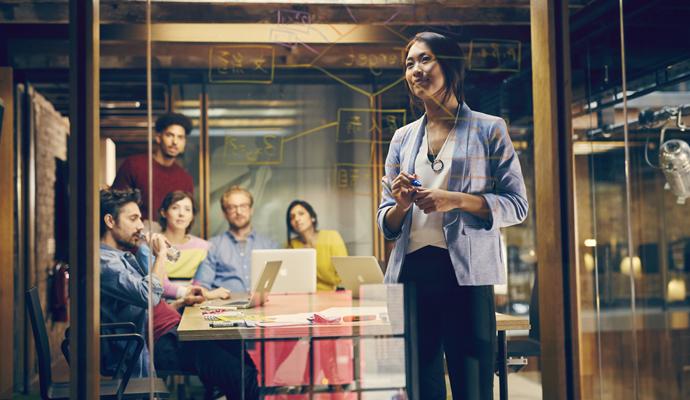 Five foundational building blocks can help innovators maximize value creation inside their organization.