Editorial Excellence
bridging theory and practice
The mission of strategy+business, set at its founding in 1995, is to help corporate decision makers set their agendas by serving as the bridge between theory and practice.
intellectual rigor, editorial excellence
Strategy+business is published quarterly by certain member firms of the PwC network. The magazine is a multimedia platform that includes the website www.strategy-business.com, e-newsletters, commercially published books, and events. Unlike any other management magazine, strategy+business competes in the commercial marketplace, delivering to advertisers a global audience of leading executives and thought leaders through a hybrid readership based on controlled and paid subscriptions and newsstand sales around the world.
Among management journals, only strategy+business speaks with a diversity of voices that includes top business journalists, scholars, consultants, senior executives, and global leaders of government. S+b is a unique blend of strategic ideas and practical solutions. Every issue features management tools, in-depth reporting, boardroom wisdom, and seminal strategic thinking that is engaging to read, clearly presented, and readily absorbed.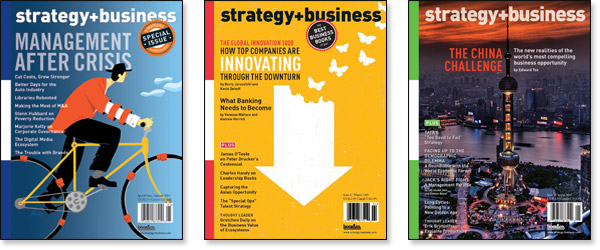 where thought leaders network
Each quarter, strategy+business attracts contributors with a depth of insight that is unmatched in peer publications. Increasingly, s+b has become a magnet and networking tool for thought leaders and executive practitioners, including C.K. Prahalad, the University of Michigan scholar and author; Stewart Brand, book author and founder of the Global Business Network and the Whole Earth Catalog; Glenn Hubbard, dean of Columbia Business School; and Ram Charan, advisor to boards and CEOs of Fortune 500 companies. Strategy+business doesn't tell readers what to think. It shows them what some of the world's smartest people are thinking about.
Every issue offers three distinctive editorial channels:
Comment
Succinct discussions of events, emerging management concepts, and breakthrough thinking in "Leading Ideas." Additional columns analyze organizational culture, management knowledge, and operating strategies.
Features
S+b's signature research-based articles on strategy, innovation, and execution. Distinctive company case studies and "Creative Mind" profiles open the door to fresh and provocative thinking.
Conversation
"Thought Leader" interviews with global business innovators. "Knowledge Review" of new books, Web sites, and white papers. "Recent Research" synopses of the latest research from management scholars at leading universities and business schools.

s+b = influence plus affluence
Strategy+business delivers a global readership of top corporate decision makers: It is read by business leaders in the 16 most influential positions at U.S. corporations with $1 billion in assets and international corporations with $2.5 billion in assets. These executives, based in more than 75 countries, qualify for strategy+business's controlled-circulation program through annual renewals and signed requests to receive the magazine. No other magazine has succeeded like strategy+business in executing the editorial and distribution strategies that serve the coveted international audience of leaders and aspiring leaders who are passionate about strategy and management.
In addition, strategy+business has global distribution among influential academics at business schools and MBA students — the next generation of business leaders. The magazine reaches them through paid subscriptions and newsstand sales.

extraordinary decision makers, exceptional purchasing power
Strategy+business readers constitute an extraordinary audience of remarkable value to you. They are top-tier business leaders who possess the resources and authority to implement major corporate purchasing decisions. They are also affluent, educated consumers who purchase and invest for their families and themselves.
This influential audience turns to strategy+business to keep current on the latest business thinking and groundbreaking strategy inside and outside their industries, their markets, and their functions. Strategy+business presents a thoughtful, balanced perspective that helps guide executives to success.