Editorial Excellence
bridging theory and practice
The mission of strategy+business, set at its founding in 1995, is to help corporate decision makers set their agendas by serving as the bridge between theory and practice. "Every major strategic decision is a bet on some theory about the way the world really works," says Editor-in-Chief Art Kleiner. "strategy+business explores those bets and the theories on which they are based. Our objective is to be the leading source for the best ideas in global business — and the resource that best serves CEOs and other strategic thinkers who want to achieve enduring results."
intellectual rigor, editorial excellence
strategy+business is published quarterly by certain member firms of the PwC network. The magazine is the flagship publication of s+b Media, a multimedia platform that includes the Web site www.strategy-business.com, e-newsletters, the s+b Reader series, commercially published books, and events. Unlike any other management magazine, strategy+business competes in the commercial marketplace, delivering to advertisers a global audience of leading executives and thought leaders through a hybrid readership based on controlled and paid subscriptions and newsstand sales around the world.
Among management journals, only strategy+business speaks with a diversity of voices that includes top business journalists, scholars, consultants, senior executives, and global leaders of government. s+b is a unique blend of strategic ideas and practical solutions. Every issue features management tools, in-depth reporting, boardroom wisdom, and seminal strategic thinking that is engaging to read, clearly presented, and readily absorbed.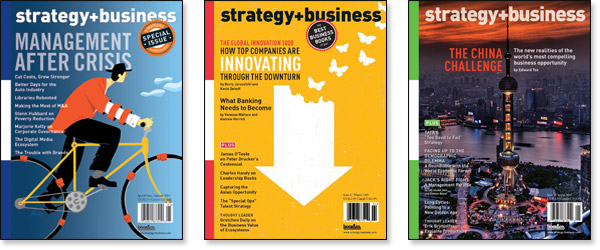 where thought leaders network
Each quarter, strategy+business attracts contributors with a depth of insight that is unmatched in peer publications. Increasingly, s+b has become a magnet and networking tool for thought leaders and executive practitioners, including C.K. Prahalad, the University of Michigan scholar and author; Stewart Brand, book author and founder of the Global Business Network and the Whole Earth Catalog; Glenn Hubbard, dean of Columbia Business School; and Ram Charan, advisor to boards and CEOs of Fortune 500 companies. strategy+business doesn't tell readers what to think. It shows them what some of the world's smartest people are thinking about.
Every issue offers three distinctive editorial channels:
Comment
Succinct discussions of events, emerging management concepts, and breakthrough thinking in "Leading Ideas." Additional columns analyze organizational culture, management knowledge, and operating strategies.
Features
s+b's signature research-based articles on strategy, innovation, and execution. Distinctive company case studies and "Creative Mind" profiles open the door to fresh and provocative thinking.
Conversation
"Thought Leader" interviews with global business innovators. "Knowledge Review" of new books, Web sites, and white papers. "Recent Research" synopses of the latest research from management scholars at leading universities and business schools.

experienced editorial leadership
Art Kleiner was appointed editor-in-chief of strategy+business in 2005. Kleiner, a well-known journalist, lecturer, and consultant with a background in business management, conceived the magazine's popular Culture & Change column, which he wrote for five years. He is the author of two acclaimed books about the dynamics of organizational behavior and power. As editorial director of the Fifth Discipline Fieldbook series (developed by MIT Professor Peter Senge), Kleiner was the coauthor of three bestsellers. His writing has appeared in Harvard Business Review, The New York Times Magazine, and Wired.
Kleiner is supported by a remarkable group of writers, editors, and authorities on strategy and management. Randall Rothenberg, s+b's Editor-in-Chief from 1999 to 2005 and now president and CEO of the Interactive Advertising Bureau, is a contributing editor. Rothenberg covered business and the media in senior editorial positions with The New York Times, Wired, Esquire, and Bloomberg News.

s+b = influence plus affluence
strategy+business delivers a global readership of top corporate decision makers: It is read by business leaders in the 16 most influential positions at U.S. corporations with $1 billion in assets and international corporations with $2.5 billion in assets. These executives, based in more than 75 countries, qualify for strategy+business's controlled-circulation program through annual renewals and signed requests to receive the magazine. No other magazine has succeeded like strategy+business in executing the editorial and distribution strategies that serve the coveted international audience of leaders and aspiring leaders who are passionate about strategy and management.
In addition, strategy+business has global distribution among influential academics at business schools and MBA students — the next generation of business leaders. The magazine reaches them through paid subscriptions and newsstand sales.

extraordinary decision makers, exceptional purchasing power
strategy+business readers constitute an extraordinary audience of remarkable value to you. They are top-tier business leaders who possess the resources and authority to implement major corporate purchasing decisions. They are also affluent, educated consumers who purchase and invest for their families and themselves.
This influential audience turns to strategy+business to keep current on the latest business thinking and groundbreaking strategy inside and outside their industries, their markets, and their functions. strategy+business presents a thoughtful, balanced perspective that helps guide executives to success.
---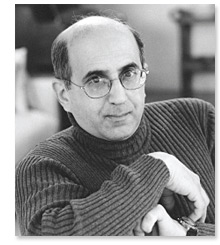 ART KLEINER
Art Kleiner is the editor-in-chief of strategy+business. He is a writer, lecturer, and consultant with a background in business management, interactive media, corporate environmentalism, scenario planning, and organizational planning, and organizational learning. His column on Culture & Change appeared in strategy+business from 2000 to 2005. His most recent book, Who Really Matters: The Core Group Theory of Power, Privilege, and Success (Doubleday/Currency, 2003), was singled out for praise by The Financial Times and Fast Company, and excerpted by the Harvard Business Review. As editorial director of the Fifth Discipline Fieldbook series (developed with Peter Senge), he has been a coauthor of three bestsellers published by Doubleday: The Fifth Discipline Fieldbook (1994), The Dance of Change (1999), and Schools That Learn (2000). He is also the author of a critically acclaimed management history: The Age of Heretics: Heroes, Outlaws, and the Forerunners of Corporate Change (Doubleday, 1996).
Since 1987, Kleiner has been on the faculty of New York University's Interactive Telecommunications Program, where he teaches courses on scenario planning and writing for new media. He has also delivered courses for a variety of organizations, including Global Business Network, the Shambhala Institute for Authentic Leadership, HR.Com, Linkage, the Society for Organizational Learning, and the Center for Organizational Learning at Massachusetts Institute of Technology, where he co-created (with George Roth) a pioneering form of organizational storytelling, the "Learning History." For several years, he was the head of research for an innovative consulting firm, Dialogos, in Cambridge, Mass. He lives with his family outside New York City.