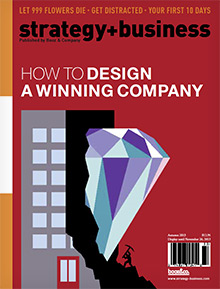 Click here to read this quarter's issue of strategy+business.
Dear %first_name% %last_name%,
Your new issue of strategy+business magazine is now available. Simply click on any link in this email to start enjoying this issue on the device you're using now.
Highlights from this quarter's edition include:
Just click here to start reading the latest articles from our magazine on your tablet, computer, or mobile device through the browser-based version of s+b's digital edition. For immediate access via one of our apps, use the following links:
s+b iPad app, s+b iPhone app, s+b Android app.
If you are using an Android device, simply download the app and log in with your email and password to get unlimited access to this quarter's issue.
Email: %email%
Password: booz
In order to log in on an iPad or iPhone device, you will need to first select the "Padlock" in the upper right of the cover gallery to launch the log in screen. You can then enter your email address and password. For more detailed instructions on logging in, click here.
I hope you enjoy this quarter's edition.
With best regards,
%from_name%
%organization%