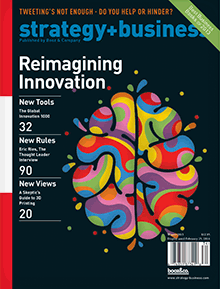 Click here to read this quarter's issue of strategy+business.
Dear %first_name% %last_name%,
Your new issue of strategy+business magazine is now available. Simply click on any link in this email to start enjoying this issue on the device you're using now.
Highlights from this quarter's edition include:
Just click here to start reading the latest articles from our magazine on your tablet, computer, or mobile device through the browser-based version of s+b's digital edition. For immediate access via one of our apps, use the following links:
s+b iPad app, s+b iPhone app, s+b Android app, s+b Windows 8 app.
First-time users on Android or Windows: After downloading the app, log in with your email and password to get unlimited access to this quarter's issue.
First-time users on iOS: In order to log in, you will first need to select the "padlock" in the upper right of the cover gallery, which will launch the log-in screen. Then enter your email address and password. For more detailed instructions, click here.
Email: %email%
Password: booz
I hope you enjoy this quarter's edition.
With best regards,
%from_name%
%organization%