Meanwhile, in the United Kingdom and France, grocery chains have initiated a different kind of format invasion in the same sector, moving aggressively into gasoline, leveraging their existing stores and infrastructure to sell gasoline at much lower costs and prices. Gasoline is just one more product for a grocery chain, whose entire motor fuel department need be only a handful of people, compared with the hundreds employed by the old-format oil companies to support similar market share levels.
Both new formats are coming to the United States. Grocers, general merchandisers, and warehouse clubs have all begun offering gasoline, many of them using unattended operations like Jet's. They now serve about 10 percent of the U.S. national gasoline market, and much more in some markets, notably Texas. It remains unclear which variant of these new formats will win, with the answer likely varying by local market. But one thing seems clear: The traditional format is losing, and will continue to lose.
It may seem remarkable that this pattern recurs so often. Yet that's the reality of format invasions. Highly sophisticated incumbent companies, with years of experience and strong market positions, ignore and resist a new format's opportunities to reduce cost, while upstart new entrants embrace and exploit them. Intruders wielding new business formats in just this way have shattered traditional competitors across a wide swath of industries, in countries ranging from the United States to France to Japan. As a result, companies championing new business formats are among the largest creators of shareholder value. Conversely, incumbent companies' failure to respond effectively accounts for a great deal of shareholder value destruction. (See Exhibit 1.)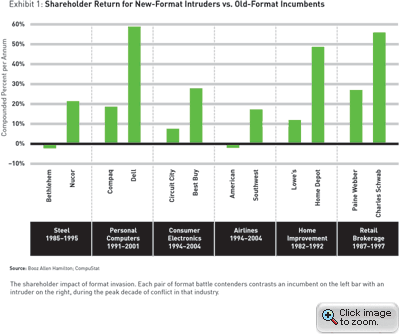 The pattern continues. New format invasions seem to be occurring now in industries as diverse as fashion apparel, commercial aircraft, and wireless communications. And (investors, take note) we see many established companies responding to format invasions with the same tactics that have failed other incumbents before.
But there is good news for executives of established companies. Format invasions are not overnight successes; there is time to respond. And incumbents need not be losers. Established companies in large industries — armed as they are with substantial assets, intellectual capital, and customer relationships — can defeat the invasions and emerge as winners, if they recognize:
Where new formats come from

How new formats take over a market

Why incumbent companies so often fail to respond to new formats

How to take advantage of a new format.
Birth: Reconceiving Costs
Over time, an industry's prevailing format becomes a victim of its own accomplishments. The quest within one company to earn a premium or bring down costs in targeted activities succeeds — and is then copied across the industry. Competitors may become less distinct, in both features and performance, and the category commoditizes. Growth may slow, but the industry can carry on in a state of equilibrium for quite a long time.
Then an innovative new format appears. One day, somebody reexamines the activities common across the industry and discovers or develops a completely new way of performing them. Quite often, this new pattern involves a focus on activities that the industry's leading companies had not noticed, much less singled out for attention. But by focusing on these overlooked factors, the innovator finds ways to configure or reconfigure the company's assets, people, and processes to greatly reduce the activities' costs.
Southwest Airlines provides a famous contemporary example. Once in the air, Southwest is no more efficient than its traditional competitors. But Southwest was the first airline to focus its institutional attention on the least interesting part of aviation: the time an airplane sits at the gate. By dramatically reducing that turnaround time and ruthlessly applying the same logic to all its operations, Southwest developed a 40 percent or greater cost advantage that its old-format competitors seem helpless to meet. (See "Airline Invasions: 'Barbarians' at the Gates," below.)