As an example of economic vitality, consider the consumer co-ops of Italy. The Italian cooperative movement, with 5 million members, is one of the largest in the world. It includes a widespread network of small cooperatives and the nine large regional members of the COOP group: Novacoop (in northern Italy), Coop Lombardia, Coop Liguria, Coop Consumatori Nordest, Coop Estense, Coop Adriatica, Unicoop Firenze, Unicoop Tirreno, and Coop Centro Italia (near Rome). Together, the nine members of COOP have annual sales of more than d11 billion (about $13 billion) and a reputation for balancing global reach in the products they stock with the local procurement of the highest-quality Italian food and other consumer goods.
During the last few years, Unicoop Firenze faced unprecedented competition from retailers entering Italy, including several European giants: Carrefour, Panorama, Esselunga, and E. Leclerc. "These entrants triggered a full-blown competition over prices and distribution," says Maura Latini, channel director of Unicoop Firenze. "Luckily, we had prepared for this over the previous years by competing against each other." Before this competition set in, COOP's management had moved to create internal competition between the chain's supermarkets and "hypermarkets" (larger outlets that combine features of supermarkets, department stores, and specialty stores, introduced in Europe to compete with the influx of Wal-Mart and similar retailers). This helped COOP establish price leadership in products across the board and ensure better food quality. "Management had decided to introduce this mechanism so that our employees would get used to competition before we had to face it directly," adds Ms. Latini.
More recently, COOP's member companies streamlined and reorganized the way they manage their core categories; they changed their store formats to make them more efficient and convenient; and they greatly expanded their own COOP-branded private-label portfolio.
At the regional level, the larger Italian cooperatives are focusing on the efficiency of store operations and on enhancing loyalty services. They are also evolving their financial-service offerings to give their members cost-effective alternatives to traditional banks. Some leading Italian consumer cooperatives have introduced a more explicitly democratic process in which employees and a large group of representative members are allowed to participate in strategic decision making.
Thanks to this broad effort, Italian co-ops have achieved 15 percent growth in a nearly stagnating economy during the last three years. They maintain prices about 5 percent lower than those in most supermarkets, and 2 to 3 percent lower than those of their fiercest competitors. Group sales have grown an average of 5 percent annually, the employment growth rate has been 5.1 percent, and the membership has risen 7.1 percent. Italian cooperatives are market leaders, with a 17 percent market share for grocery retail, and are determined to remain powerful competitors against international retailers who operate in Italy.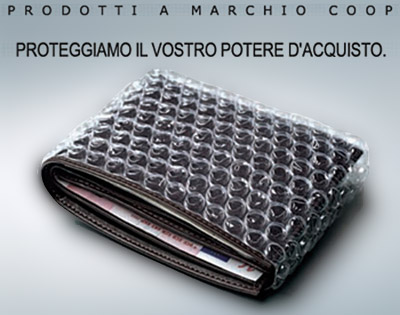 A recent COOP advertisement from Italy. The tagline translates as "We protect your purchasing power."
Well-Being and Wealth
Their success in marketing explains why cooperatives are viable. But their role in bridging social and economic interests could make them influential. This role has been part of the cooperative governance structure since it was invented around 1800. The founder of the movement, Robert Owen, headed a group of owners of a cotton mill in New Lanark, Scotland (which his father-in-law had sold them). His objective was to create well-being and wealth by spreading the profits beyond just the capital-holders. He wanted to give employees a share. He reorganized the mills, opened the first cooperative store, put some profits back into the community, and established the first infant school (for children age 5 to 7) in Great Britain. Following this example and that of the Rochdale Pioneers (a group of English weavers who organized a co-op in 1844), the movement developed throughout the 19th century. These relatively democratic enterprises proved to be influential innovators of participative management practice, pioneering such widely accepted techniques as self-managing work teams and value chain collaboration.