The instruments he and his colleagues developed exploit modern telecommunications technology in a number of ways. They can program personal digital assistants (PDAs) and specially configured "smart" cell phones to keep track of their owners' proximity to others, using the unique identifiers built into cell phone and Bluetooth transmitters to identify each individual's location. Other electronic badges complement these locators with more precise position measurements — based on global positioning system (GPS) data, they are accurate within two meters — as well as capturing audio signals and measuring upper-body movements with an electronic accelerometer.
Gathering this data is just the first step. Pentland and computer scientist Nathan Eagle have developed a method they call "reality mining" for analyzing and drawing meaning from the data. In one study, about 100 students carried reprogrammed Nokia cell phones around with them for nine months; researchers then analyzed the voluminous data set for patterns in the behaviors of both individuals and groups. They found they could make accurate predictions on where any person was likely to be seen at a certain time of day, and whom they'd probably be talking with. They could also build up accurate pictures of the networks of friends or co-workers to which the students belonged and identify their most important social links.
The ultimate aim of this kind of work — as another collaborator, Mark Mortensen of the Sloan School, points out — is to go far beyond the capabilities of traditional social network analysis, which mostly relies on human recall, with all its attendant weaknesses. "A lot of workplace communication takes place through spontaneous interactions, the watercooler kind of stuff," he says. "You can sit people down with paper and ask them who they interacted with, how, when, and so on over the last three months, but the results are always biased."
Those limitations, says Mortensen, make current analyses of team behavior inadequate. "People decide to work on something, in virtual teams or whatever, and afterward, if they didn't kill anyone, they write a book about it. But what they say is purely anecdotal and there's no science in it. We want to begin building a real science that is quantitative."
Self-Awareness, Stress, and Groupthink
It may seem overly reductionist to try to understand people through signals from gadgets hooked to their belts. But a number of major organizations have already lined up to try it out. In collaboration with Thomas Malone of the MIT Center for Collective Intelligence, Pentland's research team has begun to use sensors to observe creative group behavior at a major German bank. (One preliminary finding: People who maintain lots of e-mail and face-to-face contact report high job satisfaction and personal productivity; those who socialize less, even with the intention of getting more work done, express overall less satisfaction.) Soon, working with Eric Brynjolfsson at the MIT Center for Digital Business, they'll be helping network hardware company Cisco Systems improve one of its emergency call centers. The Human Dynamics Group from the Media Lab is also running projects with automobile engineering teams at Nissan, with several universities, and with a Boston hospital. (Indeed, sensor technology may well have medical applications, as two clinical trials showed that a significant lack of social signaling activity, readily detected by the sensors, correlated strongly with well-known signs of clinical depression.)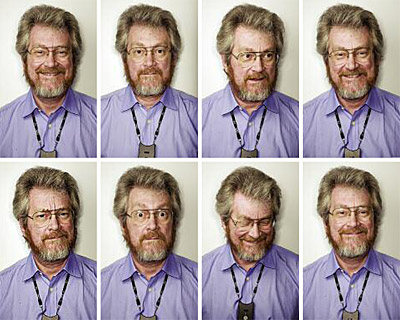 In the business setting, a company might use this type of computer-augmented self-awareness to train its negotiators. Or its sales force. By identifying social signals linked to persuasiveness, a manager could help salespeople train themselves to achieve better results without necessarily working harder. Since the most persuasive gestures, body language, and voice styles can be identified, a CEO giving frequent pitches to shareholders could presumably be trained to do so far more effectively. In another setting, companies hiring new staff might use sensors to match their employees more effectively to their jobs. Someone who is genuinely interested in a project (or in any endeavor) tends to display lots of activity and variability in both voice and gesture, and often speaks more rapidly.