As the Nissan story demonstrates, effective strategic leadership requires whittling down the list of possible strategic initiatives to a manageable set; perhaps three successive waves of activity, with four to six projects at one time, each designed to build the capabilities needed for the next wave. Before engineering a million-car sales increase, for example, Nissan needed not just the cash flow to pay for expansion, but the capabilities that reducing debt and raising operating income had pro­vided. These initiatives are also deliberately experimental. When some of them start to fail (as some inevitably will), the organization and leadership can adjust and learn from their mistakes.
Balanced Top Teams
Most of the executives we know are satisfied with the quality of their top management team; after all, these are generally handpicked colleagues with a great deal of capability. And therein lies the problem, for human judgment about close colleagues is notoriously vulnerable. "No matter how hard-nosed some leaders may appear," write Tichy and Bennis in Judgment, "they have feelings about other people. They become attached to them, or maybe detest them, to degrees that hardly ever apply when they are considering strategic business plans. And it's these feelings that can keep them from making good, objective calls [about the leadership team]."
As Max Weston and Andra Brooks of Panthea Strategic Leadership Advisors have noted, many CEOs (consciously or not) handpick people they feel comfortable with to sit on critical leadership teams. They recognize the need for technical and functional expertise; the CIO must know about systems and the CMO must have marketing experience. But CEOs do not typically assemble people who are diverse enough in their personalities and backgrounds to play the complementary roles necessary in a business context. Nor do they invest much in explicitly building the trust and accountability that team members will need to work closely together.
Those companies that explicitly balance talents and temperaments tend to use a variety of methods. The Myers-Briggs personality inventory is the best-known; some companies that use this test assign people to teams so that strong and weak characteristics are balanced. Panthea's TIME model of leadership skills (which suggests that different leaders are better at either thinking, inspiring, mobilizing, or empowering) borrows from the Andrews Munro "business challenges" framework, which identifies eight management styles: the visionary, explorer, builder, lobbyist, integrator, regulator, troubleshooter, and architect. Organizational systems consultant David Kantor proposes another set of categories, in which, for example, some people are better at moving (initiating new actions), and others prefer the roles of opposer, follower, and bystander. To Kantor, a team is truly healthy when people can easily move among these roles, raising challenges one day as an opposer, being an enthusiastic follower or mover the next day, and stepping back to offer detached commentary as a bystander the following week.
Whatever the details and categories may be, some explicit design for team composition can help prevent teams from being either stuck in recurring conflicts or prone to groupthink. At Panthea, this design includes a diagnostic of team members (see Exhibit 2) and an effort to add people who can fill in the personality gaps.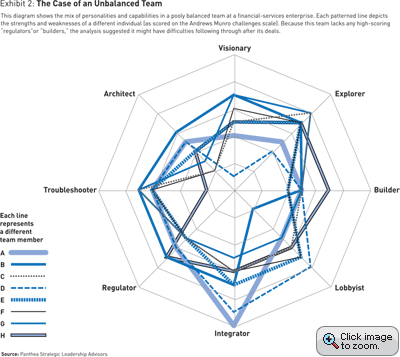 With the requisite diversity of thinking in place, the ability to plan and act together requires in-depth rehearsal, over time, often with experts from outside companies who can help provide perspective. That's why effective leadership teams are often proficient at strategic exercises, where they role-play or conduct wargames involving typical business problems, experimenting with various strategies in a fictional environment before trying them in the real world. Meanwhile, the CEO should be planning his or her succession, using the senior team as a crucible for developing others who will be capable of filling the top position in the future.