Unfortunately, many corporations are both disadvantaged on the cost side and not aligned with high-priority market-driving capabilities; this indicates overspending on the cost side that is exacerbated by a case of "throwing good money after bad," leaving the company without much to show for all the money spent.
Alternatively, some corporations are in a good I.T. cost position but will find that I.T. investments are not aligned with high-priority capabilities; these organizations will also have little to show from their existing I.T. investments. Such companies are typically unable -- or truly unwilling -- to take any risk on the I.T. front and simply are not concerned about building advantaged market-driving capabilities. This position is only sustainable for the short term -- sooner rather than later the capabilities gap will make the "catch-up" investment level required to build parity-level capabilities nearly prohibitive.
Exhibit II portrays the relative cost and alignment positions along with some typical activities required to turn around each particular situation.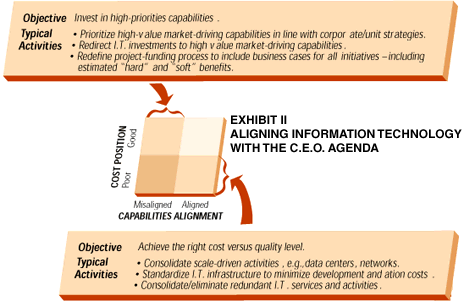 Although the best first step is to understand the market leaders' track record on the critical cost, investment-return and capabilities dimensions, it is absolutely essential to have the corporation's I.T. investment priorities aligned with its own strategy. This is a two-step process requiring a thorough understanding of both the key industry dynamics and those market-driving capabilities in which the corporation can build sustainable advantage.
In reality, C.E.O.'s must beware when driving through the alignment process. One size most definitely does not fit all. What works for one corporation with its own unique competitive position, core competencies and I.T. capabilities may not work for another with similar product/service offerings and market positioning.
Indeed, the real issue for C.E.O.'s is how to build advantage in those market-driving capabilities that make the most sense for the corporation. As with any other investment decision, when dealing with I.T. investments, there are some very real constraints and unknowns to address, particularly on the returns side of the equation. More importantly, real sustainable competitive advantage is not built on superior I.T. capabilities alone. Today's successful market-driving capabilities with significant I.T. content also include a full complement of integrated strategy, organization, process and people initiatives. If it is operating in a vacuum, even the most technologically advanced I.T. program cannot fully leverage its information content -- and it will fail to deliver the desired results.
We have helped many corporations sort through major transformations in which the I.T. solution is a significant element of the change program. Quite often, the hardest part is putting the I.T. challenge in the right context on the C.E.O.'s radar screen. We have found that this process may require a major intervention -- the proverbial "burning porch" -- to get the C.E.O. and the management team to understand the urgency of the situation and to support the concept of I.T. as a major factor on the C.E.O. agenda.
Today, more than ever before, C.E.O.'s and their senior management teams are interested in understanding I.T. The size of the investment requirements, the new risk/payback profile and the potential that I.T. now realistically brings to the corporation are finally beginning to attract the senior management attention that has been sorely lacking in too many corporations for too many years.
The challenge of putting I.T. squarely on the C.E.O. agenda is likely to be the single most difficult hurdle that corporations will face in the next few years. The winners have already stepped up and made the challenge visible and real. To envision how your corporation will fare, first look at the market leaders across key industries and see how they manage I.T. Then, look in the mirror...

Authors
---
Charles V. Callahan, Charles V. Callahan, a vice president of Booz-Allen & Hamilton, has worked for the past 12 years with clients in the communications, media, technology and consumer-products industries to improve their return on investments in information technology and to develop new business capabilities with Internet technologies. He holds a B.S. in management science from Pennsylvania State University.
---
Joseph Nemec Jr., Joseph Nemec Jr. is a senior vice president of Booz-Allen and the leader of its global information technology group. During his 29 years with Booz-Allen, he has focused on helping Fortune 20 multinationals develop strategy and manage changes in organization, processes, culture and systems. Dr. Nemec earned his B.S., M.S. and Ph.D. from the Massachusetts Institute of Technology and is a member of the 81st Advanced Management Program at Harvard Business School.