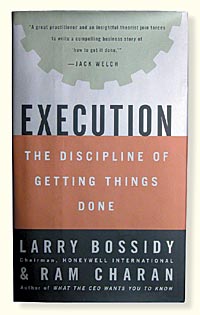 Getting Things Done
An even more fully developed picture of leadership emerges when the perspectives of retired Honeywell International Inc. chairman Larry Bossidy and consultant and professor Ram Charan are added to the mix. Their slim how-to manual, Execution: The Discipline of Getting Things Done (Crown Business, 2002), could just as well have been titled "Seven Behaviors of Highly Disciplined CEOs." The behaviors include "know your people and your business," "insist on realism," "follow through," and "expand people's capabilities through coaching." These would be no more than truisms if they weren't fleshed out as they are here. Basing his writing on his practical experience, Bossidy walks us step by step through how to think about strategy, how to undertake a plant inspection, how to do a quarterly review, how to get the right people in the right jobs, and so on down the list of important executive activities. We ended up making pages of useful notes, and in discussions about the book with clients and colleagues, we noted they are doing the same.
Bossidy and Charan also identify three major CEO responsibilities: performing analysis, closing the gap between a company's ambition and its actual performance, and, finally and especially, "getting things done."
The secret to creating effective alignment of a company's strategy, expectations, and people boils down to the CEO's mastery of what Bossidy and Charan call "the social software of execution." Given Bossidy's reputation as one of America's toughest bosses, what is striking here is his almost Socratic philosophy of execution. Instead of command and control, he describes a three-part systematic leadership process.
The first part is careful and informed questioning; instead of telling people what to do, he says leaders challenge their comfortable assumptions. Next is follow-through; at the end of every meeting, a leader sends all participants a note summarizing what they agreed to do. Finally, accountability is reinforced by leaders who evaluate the extent to which their people make good on promises, and then reward them accordingly. Indeed, Bossidy and Charan are positively Bennis-like in telling the leader to "know thyself," Heifetz-like in stressing the centrality of "expanding people's capabilities," and in step with Collins in "insisting on realism."
Those similarities were unexpected. It is less surprising to find Bossidy and Jack Welch agreeing on practically everything. The two worked closely together for many years at GE, and the similarities between their philosophies and leadership behavior has long been noted by informed commentators. That said, Welch's expansive and autobiographical Jack: Straight from the Gut (written with Business Week's John A. Byrne, Warner Business Books, 2001) is quite unlike Bossidy's short, impersonal, nitty-gritty handbook. Moreover, when analyzing the functions of the CEO, Welch starts with such "big picture" elements as strategy and bold "game changer" initiatives, whereas Bossidy starts with the details relating to systems and operations (they eventually meet in the middle). Given all that has been written about Welch and GE over the years, it should come as no surprise that there are no surprises in Jack. But what is different here is that we get to see some of Welch's familiar management practices from his perspective and with the benefit of his hindsight. For example, he recalls how a participant at one of his storied Crotonville "workouts" challenged his oft-quoted strategic formula:
For nearly 15 years, I had been hammering away on the need to be No. 1 or No. 2 in every market. Now this class was telling me that one of my most fundamental ideas was holding us back.
I told them, "I love your idea!" Frankly, I also loved the self-confidence they had shoving it in my face...
Having a high share of a narrowly defined market may have felt good and looked great on a chart, but the class was right: We were getting boxed in with the existing strategy…
I took their idea and put it into my closing remarks at our annual officers meeting … I asked each of the businesses to redefine its markets and give us a page or two of "fresh thinking" on this.