To help leaders with this process, Dotlich and Cairo identify and describe the symptoms of 11 derailers, most of which, like arrogance, volatility, aloofness, and perfectionism, seem perfectly intuitive. More usefully, they provide tests to help leaders see if they have crossed the danger line between the positive aspects of a potential derailer and its negative ones. How, for example, does one tell when healthy self-confidence crosses over to become arrogance? The authors say the willingness to fight for what one believes is a useful leadership trait, but the unwillingness to give up a fight, no matter what, gets leaders in trouble. Similarly, it is positive for leaders to believe their perspectives are correct after evaluating other points of view, but those who believe their perspectives are correct before evaluating others' ideas are headed for derailment. They warn that leaders who enter the red zone of arrogance display diminished capacity to learn, refuse to be held accountable, are resistant to change, and are unable to recognize their limitations. The authors cite Tyco's Kozlowski to demonstrate the point.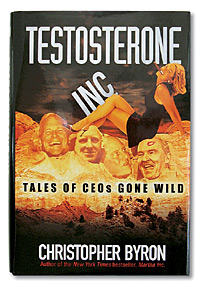 Triangulate the Truth
The cover of Christopher Byron's Testosterone Inc.: Tales of CEOs Gone Wild (John Wiley & Sons, 2004) tells it all: Superimposed on Mt. Rushmore's presidential visages are doctored photos of Jack Welch, Al Dunlap, Ron Perelman, and, yup, Kozlowski, all leering at a miniskirted pneumatic blonde. The book is basically four unauthorized — to say the least — biographies of these former CEOs, each with enough skeletons in his closet to decorate a Halloween ball. Unfortunately, Byron's tawdry and titillating tales obscure what might have been, in other hands, a profoundly useful message: Power corrupts, and character counts, as much in the executive suite as in the Oval Office. The problem isn't just the yachts, private jets, and other perks unwittingly paid for by shareholders. Byron, an author and columnist for the New York Post, also cites far more serious abuses of executive power that can lead to front-page scandals and destroy the credibility of executives and the companies that employ them.
Byron's main target is Jack Welch. He sets out to document Welch's dark side — reputed womanizing, adolescent partying, an insatiable need for power, and abusive behavior toward subordinates. But the picture that emerges of Welch is as fatally unbalanced as the official history of his GE turnaround, Control Your Own Destiny or Someone Else Will (by Noel Tichy and Stratford Sherman; Doubleday, 1993). And it is as absent of Welch's positive contributions as his memoir, Jack: Straight from the Gut (Warner Business Books, 2001), is of the negatives. Perhaps if you read all three of these books you might be able to triangulate to something close to the truth.
Lost in Byron's masterpiece of innuendo, supposition, and overstatement is an important message for business journalists, corporate boards, and shareholders: Be on the alert for early indicators of problems from ambitious executives who may be unconsciously seeking compensation for their impoverished childhoods, distant or missing parents, or whatever psychological wounds they carry. Shareholders of Tyco were the ones who ended up paying for the failure to spot the obvious danger signs in their CEO's behavior. As Byron usefully points out, nobody wants to call attention to the negative side of executives when stock prices are rising; it is only after a company loses money — or the press runs stories about company-funded birthday parties for the First Spouse in Sardinia — that there is willingness to acknowledge unethical executive behavior and abuses of power.
Two Treasury Secretaries
Byron's book also calls attention to the fact that what's missing or glossed over in most leadership texts is the real stuff of organizational life: intramural machinations, manipulations, shifting alliances, clashes of ego, and inevitable struggles for wealth, fame, and power among ambitious men and women. To learn how leaders make their way through that thicket, readers may be best served by turning to history or biography, as works about two former U.S. secretaries of the treasury — separated by two centuries but united by their ultimate failures to cope with Washington politics — illustrate brilliantly.